Carwyn Jones faces Welsh assembly life without majority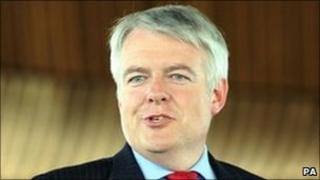 Carwyn Jones is back in charge of the assembly government after leading Labour to a big increase in its vote at the election.
Yet he is where he did not want to be - without a majority of seats in the Senedd.
At the start of the election campaign he said a "comfortable working majority is in our grasp".
As the leader of the biggest party it has been left up to him to form a government.
But as soon as he thanked AMs for their nomination of him as first minister, he was being reminded of what lay ahead.
Plaid Cymru leader Ieuan Wyn Jones - his deputy in the previous coalition assembly government - warned there would be opportunities for the opposition to inflict defeats on Labour if it cannot command majority support in the chamber.
That might be good for democracy, but it has serious implications for the government's programme, he said.
Minority governments have not always had a happy time in the assembly, hence the Welsh Labour leader's desire to avoid being in charge of one.
Stalemate
The danger for Labour is that it is forced into a stalemate. Now that the non-voting roles of the presiding and deputy presiding officers have been split between Labour and the Conservatives, it means the government and opposition are tied on 29 votes each.
Opposition leaders have welcomed a tone of humility from Labour and Mr Jones's pledge that he wants to find common ground.
Talks between the parties will continue over the coming weeks and months as he tries to find a solution to his predicament.
Before choosing a first minister on Wednesday, AMs had to choose presiding and deputy presiding officers.
As expected, Newport West AM Rosemary Butler was appointed unopposed as presiding officer.
David Melding had to beat fellow Tory AM William Graham for the deputy's job in a secret ballot of AMs. In a twist of fate, the two sit next two each other on the Conservative benches.
Mr Melding used his acceptance speech to say that he and Mr Graham would remain friends, "otherwise my life will be very, very uncomfortable".
He could easily have been talking about the first minister's relationship with the opposition.