Carwyn Jones reappointed Wales' first minister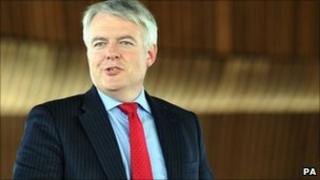 Carwyn Jones has been reappointed unopposed as first minister at the Welsh assembly's first post-election meeting in Cardiff Bay.
Welsh Labour leader Mr Jones's nomination for the job by AMs now goes to the Queen for her approval.
Labour intends to govern alone after winning 30 of the assembly's 60 seats, but says it will talk to other parties.
Rosemary Butler was elected unopposed as presiding officer to succeed Lord Elis-Thomas who served 12 years.
David Melding defeated fellow Tory AM William Graham in a secret ballot for the deputy presiding officer post.
Speaking in the Senedd chamber at Wednesday's plenary session, Mr Jones repeated a pledge that Labour would act without "triumphalism or tribalism".
With half the assembly's seats he will need the support of other parties to win votes.
"I do hope that there will be many occasions when we can find common ground between the parties, where we can move together and pass legislation and develop policies that will work for the good of the people of Wales," Mr Jones told AMs.
"I am fully aware of the arithmetic within this chamber and of the need to work with other parties in order to deliver the best for the people of Wales."
He said it was a "privilege and an honour" to receive the assembly's nomination.
"I look forward to the next five years and pledge to do my best for the people of Wales."
Wednesday's plenary session began with tributes to Conservative AM Brynle Williams, who died shortly before the election.
'Constructive opposition'
The Conservatives' interim leader Paul Davies said that as Labour was the largest party it was only right it had the opportunity to govern.
"Of course as the second largest party we will be committed to holding his government to account, to scrutinise his ministers' policies," he said.
"We will of course be a constructive opposition to the government and we will be doing our job as the watchdog for the people of Wales."
Plaid Cymru leader Ieuan Wyn Jones - deputy first minister in the previous coalition assembly government - said: "Naturally we will be willing to hold discussions, but I'm sure that you Carwyn realise that your job won't be an easy one in the ensuing period."
He added: "I have to remind you that the experiences of minority governments have not always been happy ones in this institution."
Welsh Liberal Democrat leader Kirsty Williams welcomed Mr Jones's approach, saying the stability he sought would only be possible if parties put aside their differences.
Her party's priority was to work to advance the policies it fought the election on, she said.
"Welsh Liberal Democrats will judge each issue on its merits. We will be afraid neither to support the government, nor to oppose it where we feel it is in the best interests of the people of Wales," she said.