Vote 2011: Plaid Cymru needs to regroup - Elfyn Llwyd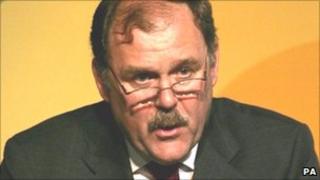 A senior Plaid Cymru figure says a spell in opposition in the Welsh assembly might help the party regroup.
Elfyn Llwyd, Plaid's Westminster leader, said there were benefits in not joining a coalition government and called for a root and branch look at the party's structure.
Mr Llwyd said: "Without the distraction of having to govern we're in a position to... regroup in opposition."
Plaid won 11 seats at last week's election, four fewer than in 2007.
Plaid was overtaken as the second biggest group in the assembly by the Conservatives, and its campaign has been criticised from within the party.
Labour leader Carwyn Jones is currently mulling over the party's options for governing, after it failed to win an outright majority.
And there has been speculation that Labour and Plaid might agree either to renew their One Wales coalition or to agree a less informal deal to allow Labour to govern.
Mr Llwyd, the Dwyfor Meirionnydd MP, told BBC Radio Wales: "If, as I understand it, that Labour later today will be saying that they will go it alone then it's possible that Plaid in opposition would be in a far stronger position to regroup than otherwise.
"There are [benefits to not going into government]. Without the distraction of having to govern we're in a position to look at everything and regroup in opposition."
On Monday party leader Ieuan Wyn Jones said he wanted to "get on with the job," arguing that it was not necessary for him to resign after the party's disappointing election perfromance.
But Mr Llwyd said no one party member was to blame.
"It's all very easy to blame one individual," he said. "All the executive of the party and senior members, myself included, must share the blame.
"We need to look at the whole structure of the party all the way through from top to bottom, to look at the staffing structure, where we're getting the message wrong, why we didn't actually have a clear strategy, why we didn't get the right message across, why we didn't actually persuade people that they should be voting for Plaid Cymru.
"I would like to see a body drawn from throughout the party but crucially with members from outside of the party as well, from academia and business, to sit down and spend a couple of months now going through all of it to see where we're going.
"What we need to do now is to regroup. Before we regroup we need a root and branch appraisal of where we got it wrong."
"Everybody knows that when parties need to regroup, you're normally in a better position in opposition than otherwise."