Vote 2011: What happens now for Welsh Labour?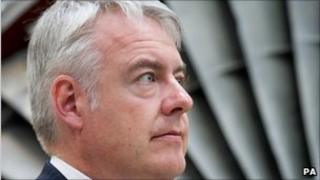 The Labour faces around the Senedd on Monday are still smiling as they move back into their offices.
Four years ago, after the inconclusive result of the 2007 election which saw them fail to get close to an overall majority, they faced a nail-biting period as their opponents tried, and very nearly succeeded, in forming an alternative anti-Labour coalition.
This time round, they are sitting pretty. It is likely that Carwyn Jones and his new Labour ministers will have their feet under the cabinet table by Friday. So that's that?
Well, no - because although they are smiling, their final tally of 30 seats out of 60 leaves them agonisingly short of an overall majority of 31.
In the short term, it does not matter too much. Ministers can get on with the day-to-day business of government without worrying about votes in the Senedd.
But once they start to use the assembly's new law-making powers - and start to work towards next year's budget - that is where their troubles will start. Life without a majority makes legislating very tricky indeed.
An organised opposition could make ministers' life extremely difficult, ambushing them on amendments when they spot that a single Labour AM is away from the chamber, and so on.
The problems could always come from within too, of course, where Labour backbenchers will be all too aware that they each, individually, hold the key to getting legislation passed.
And that is when Carwyn Jones and his colleagues will start thinking about the good old days of the Labour-Plaid Cymru coalition governments where every vote was frankly, a breeze.
At the moment there is no real sense that Labour are keen to rush into negotiations.
One source has told me that they cannot see the point of doing anything until September, after the long summer recess, which is when the budget process gets underway in earnest and bills will start to make their way through the legislative process.
Pitfalls
The two main options, assuming Labour decide they want to go for a full-blown coalition, are a reprise of One Wales with Plaid Cymru, or an alliance with the Liberal Democrats.
Both come with pitfalls. Labour are all too aware that a significant chunk of their electoral success came from attacking the Conservative-Liberal Democrat coalition in Westminster. They know that many will feel that entering into a deal with them here does not look right, somehow.
Plaid Cymru are licking their wounds after a disappointing election, and a lot of bad blood between them and Labour has flowed under the bridge in the run up to the election and the campaign itself.
Could Labour go it alone? Well, yes, they could try. But five years is a long time, and Carwyn Jones knows that his negotiating position will be at its strongest after he's shown he can govern for a period, but before he appears to be forced into an alliance in order to win votes in the Senedd.
That is why I am tempted to think the most likely time we will see the long term shape of the new assembly government will be this autumn - but Welsh politics has a habit of springing surprises, doesn't it?