Paul Davies rules out Welsh Tory permanent leader bid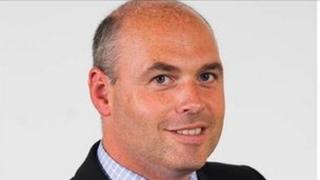 Preseli Pembrokeshire AM Paul Davies, the interim Welsh Tory leader, says he will not be seeking the post on a long-term basis.
The Welsh Conservatives need to replace Nick Bourne, who lost his seat in last week's election.
Assembly member Nick Ramsay is considering standing, as are his colleagues Andrew RT Davies and Darren Millar.
But Mr Davies said: "My intention is not to allow my name to go forward."
The process to appoint a permanent Welsh Conservatives leader will begin on Wednesday and is expected to take two months.
Mr Davies told BBC Radio Wales he had agreed to take on the role until a new leader was appointed.
"One should never rule anything out in politics but I can't foresee circumstances where I would allow my name to go forward as a potential long-term leader," he said.
"It is an honour and a privilege to have been appointed the interim leader and I think it was very important for the Welsh Conservative party to move quickly and decisively to appoint a caretaker leader to provide that stability and to provide that focus.
Mr Davies also paid tribute to Nick Bourne, who lost his regional seat on Thursday although the Tories became the second largest party with 14 seats.
He said: "Nick has become a victim of his own great success.
"We are in this exciting and much-improved situation because of his leadership and his vision. We mustn't forget he is the one that actually put us here.
"Nick, I think, has secured his legacy. That is now set in stone and will always remain an integral part of our history as a party."
Mr Davies said he would remain impartial during the leadership contest.
"That is only right and proper," he said. "The caretaker leader obviously focuses on leading the party during the leadership and (taking) the party forward during that contest.
Mr Davies, the party's education spokesman, was chosen by a joint meeting of the management board and assembly group on Saturday.
The permanent leader will be chosen by a vote of party members.
Mr Ramsay, the Monmouth AM, has already said he is considering standing for the leadership.
The Conservative chief whip in the assembly told the BBC Politics Show Wales: "I'm going to be considering that [the leadership] - many of my colleagues will be considering that as well.
"I'm going to be discussing with colleagues and senior party officials, exactly where the Welsh Conservative party is going. That's what's important, not who the personality is."
He added: "The important thing to consider as far as the leadership is concerned is where we want to be going as a party.
"It's not simply a question of putting a personality in - somebody who in the short term might be good but in the longer term we need to think again."