Elis-Thomas calls Plaid's election strategy 'negative'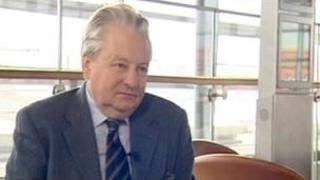 Plaid Cymru got its election strategy wrong by deciding to attack Labour, one of the party's senior figures has said.
In a BBC Wales interview, presiding officer Lord Elis-Thomas backed party leader Ieuan Wyn Jones, saying he should not stand down after a poor election result.
He said a negative anti-Labour campaign by Plaid did not work.
Plaid lost four seats and was overtaken as the second-biggest party in the Senedd by the Conservatives last week.
Despite forming a coalition assembly government in 2007, Plaid heavily attacked Labour during the election campaign.
Lord Elis-Thomas, who was re-elected as the AM for Dwyfor Meirionnydd, told BBC Wales' Politics Show that Mr Jones, who led the party into government for the first time four years ago, should not stand down.
He said: "I think it's important now there is stability within Plaid and within the leadership."
The whole party was collectively responsible for the campaign, Lord Elis-Thomas said.
"I think there was a problem with the campaign itself in that there appeared to be a determination to be as negative as possible towards our previous partners in government and I don't think the position of the party was sufficiently clearly explained even on the particular political spectrum we have in Wales."
He said he made it clear he would not serve in a coalition under the Conservatives unless Labour was "decimated".
"It's very clear that the Welsh people have decided that they trust the leadership of Carwyn Jones as first minister."
He said the former Labour-Plaid coalition has delivered successes in housing, transport and on the constitution. The latter included a referendum to boost the assembly's law-making powers.
He said: "I never expected an automatic referendum bounce, but I think we should have made clearer to people that we were standing on a programme that we had worked together and not, in a sense, campaigning very negatively about Welsh Labour, which didn't work, as I said it wouldn't."
He said he would argue strongly against anyone who wanted to remove Ieuan Wyn Jones. Plaid's priority was to think about its own position in the next assembly, either within government or as a party providing "proper and effective scrutiny".
Asked about resuming the role of presiding officer, he said: "I have been here before and I am a servant of the assembly.
"I will do what I am asked to do by my colleagues."