Nick Ramsay AM considers Welsh Tory leadership bid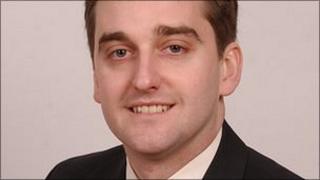 Nick Ramsay, the Conservative AM for Monmouth is considering standing for the party's leadership in the Welsh assembly.
The Welsh Conservatives need to replace Nick Bourne, who lost his seat in Thursday's election.
The party has chosen Preseli Pembrokeshire AM Paul Davies as interim leader.
Mr Ramsay said the direction of the party was the immediate priority not the personality of the leader.
Speaking on the BBC Politics Show Wales, Mr Ramsay, the Conservative chief whip in the assembly, said: "I'm going to be considering that [the leadership] - many of my colleagues will be considering that as well.
"I'm going to be discussing with colleagues and senior party officials, exactly where the Welsh Conservative party is going. That's what's important, not who the personality is."
He added: "The important thing to consider as far as the leadership is concerned is where we want to be going as a party.
"It's not simply a question of putting a personality in - somebody who in the short term might be good but in the longer term we need to think again."
Mr Davies, the party's education spokesman, was chosen by a joint meeting of the management board and assembly group to take over in the interim.
The process to appoint a permanent leader will begin on Wednesday.
The final decision will be taken by a vote of party members.
Mr Bourne lost his Mid and West Wales regional seat on Thursday, although the Tories became the second largest party with 14 seats.
Mr Davies said he was "delighted" and called it an "incredibly exciting time" for the Conservative group.
"We are now the second biggest party in the national assembly following a hugely successful election, and my job will focus on driving us forward during the start of this term."
Mr Bourne welcomed Mr Davies' appointment, with a message on Twitter: "Good luck to Paul on taking over the reins for now. He will do a great job".