Vote 2011: Assembly alliances under discussion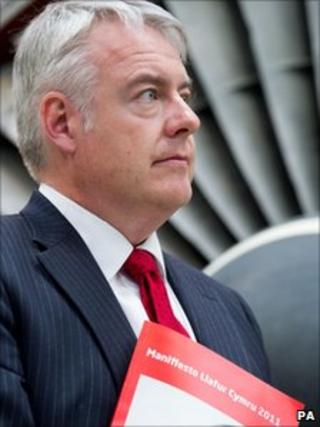 Talks are continuing within political parties about the prospects of forming a coalition government in the assembly.
It is becoming clear Labour will form a government alone later this week, after an expected vote to reinstate Carwyn Jones as first minister.
But there are signs he will explore joining forces with either the Liberal Democrats or Plaid Cymru.
Labour MP for Pontypridd Owen Smith said a partnership with the Lib Dems would be "difficult".
Labour's talks with the Liberal Democrats or Plaid Cymru could involve a coalition, or a more informal arrangement.
This would give Labour an outright majority as it currently holds 30 of the 60 assembly seats, one short of the majority it needed for overall control.
Conservatives have 14 seats, Plaid Cymru, 11, and the Liberal Democrats five.
Neither deal would be straightforward, which means all three parties are now having internal discussions about how any agreement might work.
Mr Smith, who was also Welsh Labour's election campaign manager, told BBC Wales' Politics Show the party wasn't ruling anything out.
When asked about joining forces with the Lib Dems, he said: "It would be difficult without a doubt.
"If they were to disavow Nick Clegg and renounce the right-wing policies that they are supporting in Westminster, we would be in a different situation.
"We've worked well with Plaid Cymru over the last four years but they seem to be a bit at sixes and sevens right now.
"They've lost their deputy leader, there's question marks over the direction of the party and the leader but it's up to them to come to us."
On BBC Radio Wales' Sunday Supplement programme, Health Minister Edwina Hart refused to be drawn on what was going on behind closed doors.
She said: "It's pre-emptive to talk about any issues like this because we have got to give due consideration to how to deliver our agenda over the next five years.
"It's important for us to take stock, take our time and things will click into place in the early part of this week."
Liberal Democrat peer Lord German said Labour could look to appoint a new presiding officer from the opposition benches to secure a majority of one in government.
The former Welsh Lib Dem assembly leader said: "That technical majority reduces any price that has to be paid for working in any form of relationship with other parties."
He added that Carwyn Jones could also opt to go it alone.
"I find it very difficult to see how he can do a deal with any other party unless he is prepared to make significant concessions.
'Difficult route'
"I think he will tough it out and see how far he gets and when he sees a bit of trouble on the horizon, he will come looking for some sort of arrangement."
The newly-elected Plaid Cymru AM Simon Thomas said this would be a difficult route and would require strict discipline.
"I think maintaining a government of 30 members for five years is a big ask of any party.
"However, it's an option for Carwyn Jones to get himself elected as first minister, appoint a cabinet and just see what happens."
The new assembly is likely to meet for the first time this week. Once a new presiding officer and deputy have been elected, there will then be a vote to install a new first minister.
'Main thrust'
The Conservatives, Plaid and Liberal Democrats are likely to abstain, meaning Carwyn Jones will be elected easily with Labour's votes.
Welsh Liberal Democrat leader Kirsty Williams has told BBC Wales she has not ruled out working with Labour.