Welsh Tories make Paul Davies interim assembly leader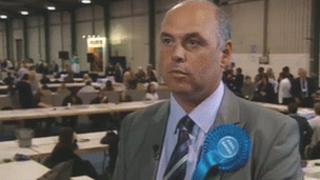 Welsh Conservatives have chosen Preseli Pembrokeshire AM Paul Davies as their interim leader, replacing Nick Bourne.
Mr Davies, the party's education spokesman, was chosen by a joint meeting of the management board and assembly group.
Mr Bourne lost his Mid and West Wales regional seat on Thursday, although the Tories became the second largest party with 14 seats.
The process to appoint a permanent leader will begin on Wednesday.
Mr Davies said he was "delighted" and called it an "incredibly exciting time" for the Conservative group.
"We are now the second biggest party in the National Assembly following a hugely successful election, and my job will focus on driving us forward during the start of this term.
"Not only did we gain seats this week, we are also now more representative, with four women AMs," Mr Davies added.
His appointment was also welcomed by Welsh Secretary, Cheryl Gillan.
She said it would bring "stability and focus over the coming weeks".
"Party members across Wales will now be involved in the process of electing a new leader in the assembly should more than one candidate emerge from within the group in Cardiff Bay," Ms Gillan said.
"I look forward to a healthy debate about how our assembly group moves forward after our excellent election results yesterday.
"There are huge challenges and opportunities ahead in the National Assembly, not least in keeping Labour and the Assembly Government under constant pressure to make the right decisions for the future of Wales."
Mr Davies, an AM since 2007, also paid tribute to Nick Bourne, who he said had "become a victim of his own great success".
"Twelve years of his clear vision and leadership have powered the Welsh Conservatives forward. That is set in stone and will always remain an integral part of our history."
After his defeat on Thursday night, Mr Bourne said he had "12 marvellous years" as an AM for mid and west Wales.
Ms Gillan also paid tribute, saying: "Nick Bourne played a lead role in transforming the image and fortunes of the Welsh Conservative Party for more than a decade.
"His leadership, vision and courage have been central to the party's unprecedented levels of success in recent years."