Vote 2011: Labour to dictate terms of government deal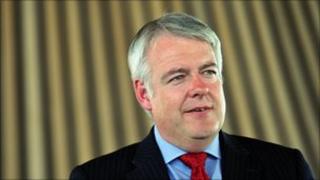 Labour say they expect to be in government in Cardiff Bay by the end of next week.
It is likely they will initially govern as a single party, rather than rush a deal with Plaid Cymru or the Liberal Democrats.
Labour AM Leighton Andrews said they would dictate the terms of any deal.
Welsh Lib Dem leader Kirsty Williams called for a "stable government" as the Tories announced Paul Davies as their new interim leader in the assembly.
Mr Andrews told BBC Wales Labour were the clear winners of the election, meaning they were in a position to take stock and decide the way forward.
"Labour is going to form the government in due course and what shape that government takes will be a matter for the first minister," he told BBC Radio Wales.
"I'm not ruling out going it alone and nor is the first minister - we need to look at what we can do as the Labour party in the short term and over the five year period now that we have the 30 seats."
The newly-elected Plaid Cymru AM Simon Thomas said his party were still open to a repeat of the One Wales coalition with Labour, but they needed to learn the lessons of their disappointing election performance.
He added: "Labour are in a position where they dictate the way forward and I think it's important Plaid takes stock of that and we realise we're not in the position we hoped for in terms of trying to arrange an alternative government or a different way of doing the coalition.
"We are now the third party in Wales and we have to acknowledge that. "We have to look at what is being offered by Labour and look at ourselves and lick our wounds."
The Liberal Democrats are also discussing their next move this weekend. Retaining five out of six seats in Wales is being seen as a positive result given the UK political context.
Kirsty Williams said: "We want there to be a stable government over the next five years and we want to concentrate on the issues we've been campaigning on, how can we strengthen the Welsh economy, how can we improve education results for our children and how can we cut waiting times.
"Whether that's part of government or opposition these will continue to be the main thrust of the work of the Welsh Liberal Democrats."
Meanwhile, Welsh Conservatives will begin the process of electing a new leader on Wednesday, after Nick Bourne lost his seat, ironically because of the party's strong performance in Mid and West Wales.
Until that appointment is decided Preseli Pembrokeshire AM Paul Davies is their interim leader.
Critical areas
The new assembly is likely to meet for the first time next week. Once a new presiding officer and deputy have been elected, there will then be a vote to install a new first minister.
The Conservatives, Plaid and Liberal Democrats are likely to abstain, meaning Carwyn Jones will be elected easily with Labour's votes.
Turnout at Thursday's election was down slightly on the 2007 figure, with 41.6% in the constituency count and 42.2% in the regional list count.
Meanwhile, the Welsh business sector called for "action" in forming a new assembly government.
Robert Lloyd Griffiths, director of the Institute of Directors in Wales, said the critical areas of infrastructure, skills and education needed to be addressed.
CBI Wales director David Rosser said the new government needed to forge a closer relationship with business than ever before because only the private sector could deliver economic growth for Wales.