Tory John Broughton's David Cameron Twitter criticism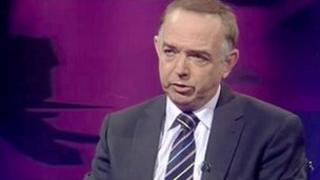 A Conservative Welsh assembly candidate has used Twitter to criticise Prime Minister David Cameron and Welsh party leader Nick Bourne.
John Broughton also tweeted on Plaid Cymru candidates, calling Heledd Fychan odd and Helen Mary Jones a "fruitcake".
A Tory spokesman said members were free to campaign on either side of the assembly powers referendum.
Plaid Cymru said Tories and Labour had turned the election into a "mud-slinging contest".
Mr Broughton is ranked ninth on the Conservative list in North Wales and has little chance of becoming a member of the assembly.
Several of Mr Broughton's tweets over the past 12 months were critical of many prominent Welsh Conservatives' support for a Yes vote in the March referendum on assembly powers.
He posted a comment about Mr Bourne, saying "nice guy completely wrong policy" for apparently considering a coalition with Plaid Cymru.
Defending his online comments, Mr Broughton said: "Clearly there were differences of opinion in the assembly powers referendum, as there were in the Labour Party.
"I agree with David Cameron and Nick Bourne that Wales needs a change from Labour who wrecked our economy and are now cutting our NHS.
"Welsh Conservatives will be a new voice for Wales on 5 May."
A spokesman for the Welsh Conservatives defended candidates' right to campaign on either side of the referendum.
He added: "Now the referendum is over, John and all other Welsh Conservatives are working hard to provide a new voice for Wales after 12 years of failed Labour policies which saw soaring waiting lists, falling educational standards and Wales branded the poorest part of the UK."
'Sticking the boot in'
A Plaid Cymru spokesperson reacted to Mr Broughton's comment by saying: "Both the Conservatives and Labour are guilty of turning this election into a mud-slinging contest because they have nothing to say about the issues that are important to the people of Wales."
Labour criticised Mr Broughton for turning on members of his own party: "David Cameron and Nick Bourne don't even have the confidence of their own candidates, let alone the voters.
"John Broughton was in a room clapping along to Cameron's speech only a few days ago and yet here is sticking the boot in on his fellow Tories."
A Lib Dem spokesperson said: "Mr Broughton's comments about fellow assembly candidates are not appropriate and he should apologise immediately."