Welsh Tories willing to 'dance' with Plaid and Lib Dems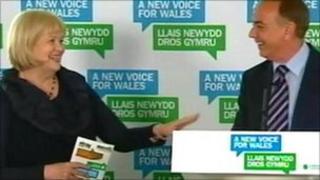 The Conservatives said they have a programme that would take them "out of their comfort zone" as published their Welsh assembly manifesto.
Welsh Tory policies for the economy set targets on raising prosperity.
Tory assembly leader Nick Bourne said his party was willing to look at a coalition with the Liberal Democrats and Plaid Cymru after May's election.
In his introduction to the manifesto, David Cameron said his party had an "ambitious programme for government".
At the launch of the manifesto - called "A new voice for Wales" - Mr Bourne said some issues were "covered in the manifesto and which perhaps some of them may take us out of our comfort zone".
He said it was important to guarantee independence for S4C in the channel's funding and structure.
The Tory-led UK government had committed to re-examine the Barnett formula which decides how much funding the assembly receives from the Treasury, he said.
He said the Conservatives would produce a white paper on a Welsh legal jurisdiction.
Speaking at the launch in Llandudno, Mr Bourne said: "We've travelled a long way as a party over the last 12 years, going forward at every election and we will be doing so again. That is the aim."
The Conservatives almost got into government after the 2007 assembly election, until a "rainbow coalition" with the Welsh Lib Dems and Plaid fell apart. Labour and Plaid then formed their own coalition.
The Tories won 12 of the 60 assembly seats in 2007, although a defection from Plaid increased their number to 13.
Mr Bourne said that "if we are looking for a coalition I think our likely dancing partners are going to be Plaid Cymru and the Liberal Democrats".
"There will be some no-go areas of course, as there were last time," he said.
"But if we are going to move Wales away from the dependence on the state, as we see it, from the top-down approach, from the direct diktat approach of the Labour Party, that is the only possible scenario.
"So that's certainly what we are looking at. It's a possibility, there are areas where we would agree, there are areas where we disagree, but what we can't do is pre-judge the election result."
Welsh Tory policy director David Melding said: "I think it's very important that we demonstrate to the people of Wales that we could govern. We realise the electoral arithmetic is what it is, but if we are elected then this is the programme that we will be able to deliver."
'Building together'
He said the Conservatives were not a protest party "and we have an offer for the people of Wales and that could also involve combining with other parties".
"It's very important for the maturity of Welsh politics that people can see a future in government that does not involve the Labour Party," he added.
The manifesto says wealth levels should reach 85% of the UK average by 2020 and 100% by 2030.
A Tory assembly government would set up a public-private-partnership scheme, called Building Together, to invest in infrastructure projects, including a major school building programme.
Conservatives plan to scrap business rates for small firms - a pledge that rivals say is unaffordable.
They have also faced questions from opponents about a key pledge to ring-fence the NHS budget. The manifesto restates the policy, and attacks Labour for deciding to "cut" health spending in Wales.
Universities would be allowed to raise tuition fees to a maximum of £9,000, subject to approval by the assembly government.
The manifesto promises world-class higher education, with a target for Cardiff University to become one of the world's top 50 universities by 2020.
There is a promise to use the law-making powers won by March's referendum, including in an Enterprise Bill to foster the private sector and a Public Health Improvement Bill that would create a health screening service.
Plaid Islwyn candidate Steffan Lewis said: "Unless the Conservative manifesto contains a written apology to the Welsh communities that their Westminster leadership is targeting with their savage cuts then it will not be worth reading."
Attacking a Tory pledge to defend small schools, Labour Rhondda candidate Leighton Andrews said: "The Tories are simply bad news when it comes to education - we know of course that students will be forced to pay higher fees should they form the next government in Wales."
Liberal Democrat Montgomeryshire candidate Wyn Williams said:
"The Conservatives have released a manifesto that will take Wales backwards. They claim to be concerned about the weak economy but want to slash budgets for economic development and training at the very time when these areas need to be prioritised."