Lib Dems focus assembly election campaign on economy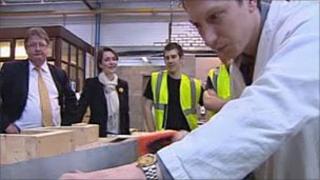 The Welsh Liberal Democrats have promised a "relentless" focus on the economy at the launch of their assembly election campaign.
Party leader Kirsty Williams said May's election was the most important Wales has faced since devolution.
She said concentrating on the actions of her party's coalition government in Westminster risked letting Labour and Plaid Cymru "off the hook".
The Lib Dems have failed to improve on six seats in the assembly since 1999.
Their policies include a pledge to offer firms £2,000 for staff training if they hire unemployed young people.
It is part of plan to boost the economy, tackle low skills and create jobs.
Asked about public spending cuts by the UK government, Ms Williams said: "My colleagues in Westminster have had to take some really difficult decisions to help clear up the mess the last Labour government left us with, and that's a reality that we have to deal with.
"But if we focus on Westminster it simply lets the Labour-Plaid government off the hook for the last four years.
"They've left us with a weak economy, underfunded schools and an NHS that costs more but delivers less."
She added: "That's what Welsh people want to hear in this election - what is the Welsh Assembly Government going to do for me, my family and my community, and how can we solve these problems?
"And the Welsh Liberal Democrats are putting forward solutions to those very serious problems."
Launching the campaign at Coleg Gwent, Newport, on Tuesday, she said her party would tackle a spending gap between schools in England and Wales, and promised to target money at the 80,000 pupils who the Lib Dems say need it most.
Cutting out waste in the NHS would mean more resources get to the frontline, the Lib Dems say.
They promise a "radical overhaul" of the energy efficiency of 12,000 homes by doubling the money available for tackling fuel poverty.
And they would cut "restrictions" on local councils, including the number of ring-fenced grants and statutory duties for authorities.
Following the referendum vote in favour of direct law-making powers for the assembly last month, Ms Williams called for a "new era in devolution".
"The Welsh people voted to strengthen devolution in the referendum but they also want it to work better," she said.
She declined to predict how many seats her party could win on 5 May, saying she did not want "to take the Welsh public for granted".