Cadw: Heritage Minister scraps free age group entry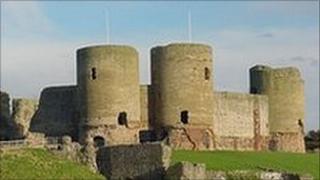 People over 60 and under 16 will no longer be allowed to visit many of Wales' historic sites for free.
Heritage Minister Alun Ffred Jones said the policy had failed to attract lower-waged families and site operator Cadw would now consider other methods.
The scheme, which began in 2008 and will end on 1 June, costs the Welsh Assembly Government around £130,000 a year.
Age Concern Cymru said it was "a shame" the decision had been made.
Since its launch two and a half years ago, some 30,000 free entry passes have been issued under the scheme, said the assembly government.
Of these 84% were for people aged 60 and over, while 16% were for children aged 16 or under.
Although more than 39,000 visits were made using these passes, this amounted to just 1.5% of the 1.2m people a year visiting Cadw sites where there is an admission charge.
Of Cadw's 127 sites in Wales, 97 are not staffed and charge no admission fee.
The assembly government confirmed that passes already issued under the existing scheme would be honoured until their expiry date.
Mr Jones said Cadw officials had reviewed the policy's effectiveness and the findings had shown that the scheme had not attracted groups under-represented as visitors.
"We see very little indication that the initiative has attracted many lower waged families - a key issue that the policy was introduced to address."
Mr Jones said research had shown that free-of-charge open days and programmes of special events with an admission charge had greater appeal to a wider audience.
"I am in no doubt that they offer a more effective means of delivering on our commitment to make heritage sites in Wales more accessible to all," he said.
He added: "The monuments in Cadw's care represent some of the most important jewels in Wales' priceless collection of heritage treasures.
"I have been absolutely committed to ensuring that as many people as possible should be able to enjoy those treasures."
A spokesman for Age Concern Cymru said: "A free visit to Cadw sites across Wales would provide an opportunity for older people, and grandparents and their grandchildren, to enjoy a day out together and a chance to learn more about Wales' rich heritage."
Cadw looks after many of Wales' historic buildings, parks, gardens and landscapes.