Badger cull legal advice sought by Badger Trust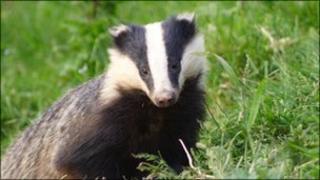 The Badger Trust says it is taking legal advice after AMs decided to approve an order allowing a badger cull in parts of mid and west Wales.
The trust is taking advice about the reasons given for the decision, and says the proposal is "expensive, futile and clearly unnecessary".
Plans to introduce a similar scheme last year were defeated in the High Court by the Badger Trust.
Rural Affairs Minister Elin Jones said she had fully considered the evidence.
The renewed plan for a cull has been welcomed by farming unions and criticised by conservationists.
The cull area includes north Pembrokeshire and parts of Ceredigion and Carmarthenshire.
Ms Jones has said the cull was "only one part of a larger programme to pursue the eradication of bovine TB in Wales by dealing effectively with all main sources of infection".
Other measures included continued additional cattle controls and improved biosecurity measures, she said.
Animal rights campaigners, including Queen guitarist Brian May, who was in Cardiff to attend the assembly debate and vote on the cull on Wednesday, have said they would take the fight back to the High Court if necessary.