Badger cull plan to help tackle TB in cattle is backed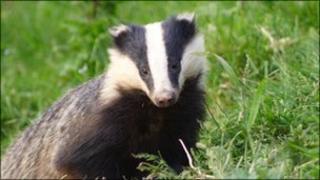 Plans for a cull of badgers in parts of mid and west Wales to help tackle TB in cattle have been approved by assembly members.
Assembly government proposals to introduce a similar scheme last year were defeated in the High Court by the Badger Trust.
Rural Affairs Minister Elin Jones said she had decided to push ahead after fully considering the evidence.
Farming unions welcomed a cull, but it was criticised by conservationists.
Ms Jones said she was satisfied that TB existed in badgers and was being transmitted from badgers to cattle in the designated cull area in north Pembrokeshire and parts of Ceredigion and Carmarthenshire.
She said it was "necessary to destroy badgers" in the designated area "in order to substantially reduce bovine TB" there.
She added: "It is important to remember that the culling of badgers will not be carried out in isolation but alongside the continued additional cattle controls and improved biosecurity measures that have been in place within the IAA [intensive action area] since May 2010.
"This is only one part of a larger programme to pursue the eradication of bovine TB in Wales by dealing effectively with all main sources of infection."
Queen guitarist Brian May, an animal rights campaigner, was in Cardiff to attend the assembly debate and vote.
Before the vote told BBC Wales he would help take the fight back to the High Court if necessary.
"This is a pointless piece of lunacy and it baffles me that the legal experts in this country can come down against Elin Jones on three separate counts and she can still go ahead just months later," he said.
"It makes a mockery of Welsh law in my opinion.
"If this goes ahead, it will be straight back to the courts as there is definitely a legal question to be answered and I sincerely hope they don't get away with it.
"I am prepared to fight this all the way."
May said for the past two years, the incidence of bovine TB had "fallen dramatically" with the tightening of cattle-based controls within the farming industry.
"The slaughter of badgers cannot prove anything - all it will do is appease the farmers in the short term, who understandably, perhaps, 'want to see something done'."
Ms Jones also announced new controls to deal with TB in non-bovines, which include camelids - such as llamas and alpacas - goats and deer. Like cattle, they will be slaughtered if found to be infected by TB after tests.
Wednesday's vote was tabled by four AMs who are opposed to the cull.
One of them is Liberal Democrat AM for South Wales West, Peter Black, who also said he did not believe a cull would reduce TB cases in cattle.
The Welsh Assembly Government said any reduction in TB statistics was welcome but it would be "premature" to suggest a turning point has been reached in Wales.
"Statistics need to be treated with caution, and while we monitor statistics monthly, figures need to be analysed over time to observe a trend," said a spokesperson.
It said the number of new TB breakdowns in the old Dyfed area between January and November 2010 was 456 compared with 565 for the same period in 2009 - a 19% decrease.
But within the intensive active area in 2010, there were 79 new TB breakdowns compared with 55 in 2009, a rise of 44%.
Stephen James, deputy president of the NFU Cymru, argued that vaccination was not a viable option in the IAA in west Wales.
"Vaccination prevents disease, it does not cure it," he said. "We know that there is a significant reservoir of disease within the badger population of the IAA."
Labour and Plaid Cymru pledged to deal with bovine TB in the coalition deal they struck after the 2007 assembly election.
The latest order comes ahead of the next assembly elections on 5 May.
Some AMs previously tried - and failed - in a similar bid to halt the previous badger cull.
Wednesday's Senedd vote is the same process, played out for a second time with a re-drafted order.