Power taken from Anglesey council elected politicians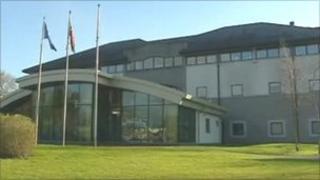 A council troubled by political in-fighting for years is facing its first day being run by commissioners appointed by the assembly government.
It is the first time in the UK that executive power has been transferred away from councillors.
Local Government Minister Carl Sargeant announced the move on Wednesday to end what he called the "politics of the playground" between councillors.
He said the island's 40 councillors had "betrayed those who elected them".
A recovery board was appointed in 2009 after an earlier study found Anglesey had a history of not being run well.
A report by the Wales Audit Office said a split in the council's biggest political group last year and an attempt to overthrow the council's leader in January had caused instability and it was time for change.
It is the first time in the UK that executive power has been transferred away from councillors, in effect moving them to the backbench.
Two of the five commissioners - former Flintshire council leader Alex Aldridge and former Cardiff chief executive Byron Davies - have been appointed. Gwent Police Chief Constable Mick Giannasi has been invited to join them when he retires at the end of the month.
The assembly government will appoint two more commissioners shortly.
Most of Anglesey's politicians are independent, so they are not elected as representatives of political parties.
If some of them form a group to run the council, they can also back out of it and join another one.
In the last 18 months, around a third have changed their allegiance at least once.
Mr Sargeant said said that was not always done for good reasons, commenting that as soon as a group of councillors took control, their rivals begin plotting ways to get rid of them.
The Wales Audit Office (WAO) said conflict at the council was "once again having a corrosive effect" and that the "the pursuit of power for its own sake or for the advantages that it can bring to individuals or the wards they represent has once again emerged".
Alan Morris, from WAO, told BBC Radio Wales that public life witnessed at the authority had not always followed the selflessness expected of elected members.
"We haven't seen any evident of corruption, it's more inappropriate use of power, and more of a focus on the individual and perhaps on their ward, rather than recognising their leadership role for the island as a whole," he said.
He said the suggestion that council elections be delayed was part of wider calls for the Boundary Commission to to look at the possibility of reducing the number of councillors, and introducing more multi-member wards.
He added: "Many of Anglesey's councillors are elected unopposed, election after election. We want to encourage more people to stand.
"We want an opportunity to reinvigorate the right kind of politics on Anglesey and, to a degree, taking the power away seems to have become an inevitable step."
Anglesey MP Albert Owen said he advocated the idea of an elected mayor who would have a "clear mandate".
He said: "I think an elected mayor is radical but it's what's needed in these circumstances. These are very serious circumstances and we need to look at serious solutions for it."
"There's no going back. We need to change the whole culture. We need more women, we need younger people."