Anglesey council to be taken over, says Carl Sargeant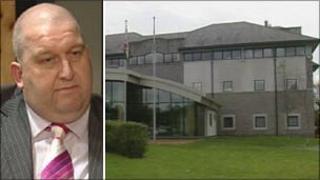 Commissioners will be sent in to run the troubled Anglesey council after years of political infighting, it has been confirmed.
Local Government Minister Carl Sargeant said councillors had "betrayed those who elected them" and indulged in "politics of the playground".
He said: "Enough is enough. I have been more than patient in giving the council a chance to sort things out."
It follows a report which said an elected mayor could give stability.
A recovery board was appointed to oversee the council in 2009 after an earlier inspection found it had a long history of not being run properly.
But Mr Sargeant told assembly members it was time for "further and more stringent" action.
He said holding a referendum on creating a directly-elected mayor was a decision for the council "and one I would not stand in the way of if their decision was to go down that route - that would be fine".
But he said: "I think there are more immediate important issues we need to identify now."
Welsh Local Government Association chief executive Steve Thomas said the decision represented "the most severe interventions into an individual local authority in Welsh local government's history".
He added: "The decision by the minister to appoint commissioners is fully a consequence of the way that a number of councillors have conducted themselves."
The first two commissioners are former Flintshire council leader Alex Aldridge and former Cardiff chief executive Byron Davies. Gwent Police chief constable Mick Giannasi has been invited to join them when he retires at the end of the month. Two other commissioners will be announced as soon as possible.
It is the first time in the UK that all executive functions have been taken away from a council.
The commissioners would remain in place until at least the next local government elections in 2012, "but it's clearly not a long-term solution", Mr Sargeant said.
"The actions and attitudes of too many of Anglesey's councillors have left me with no alternative. They have brought this further intervention on themselves, and they thoroughly deserve it," he added.
In a report on Wednesday, the Wales Audit Office said ministers' efforts to sort out the problems had not produced a sustainable recovery.
Risks involved
Mr Sargeant called in the public spending watchdog in February.
It rates the council's chances of recovery by August as "poor" and says commissioners should be appointed to run it.
It also recommends ministers consider directing the authority to hold a referendum seeking local voters' views on a directly-elected mayor and cabinet.
Although there are risks involved, it says it could provide stable leadership and avoid the current jockeying for power between groups of councillors.
Ceredigion is the only Welsh county to hold such a referendum, where the idea was rejected in 2004.
The audit office report said progress towards the findings of the 2009 inspection "had not proved to be sustainable".
Two key events are listed as having contributed to the latest "bout of instability" - a split in the council's biggest political group last June and an attempt to overthrow the council's leader in January.
Auditor General Huw Vaughan Thomas said: "It is disappointing that ministerial intervention has not succeeded in producing sustainable recovery for Isle of Anglesey council."
He said that in some respects the council had responded positively to the intervention, but a lot of work remained to modernise the council's arrangements.
"For this to happen there needs to be political stability within the council and I do not believe the council's current democratic arrangements support the changes that are needed," he added.
In a joint statement, the leaders of the council's political groups said they were committed "to working to regain public trust and ministerial confidence and to sustaining Anglesey as a sovereign authority".
"We would also wish to make it absolutely clear that this report is not critical of the authority's staff," they said.
"Despite these problems, our workforce has continued to provide quality services for the people of Anglesey, and that is a great credit to them."