Elected mayor 'could end political strife on Anglesey'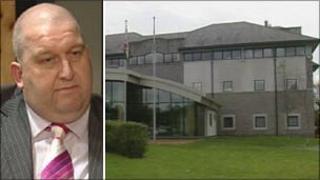 A referendum should be held on creating a directly-elected mayor for Anglesey, says the public spending watchdog.
After years of council in-fighting, auditor general Huw Vaughan Thomas says a mayor could offer stability.
The Wales Audit Office said ministers' efforts to sort out the problems had not produced a sustainable recovery.
Local Government Minister Carl Sargeant is to make a statement on the council, which could see commissioners brought in to run the authority.
It rates the chances of recovery by August as "poor" and says commissioners should be appointed to run it.
Mr Sargeant called in the auditor general to inspect the council in February and he will give AMs his conclusions in the Senedd later.
A recovery board was appointed to oversee the council in 2009 after an earlier inspection found it had a long history of not being run properly.
Wednesday's report says it is now time to "intervene more directly" and the executive functions of the authority should be given to ministerially-appointed commissioners.
It also recommends ministers consider directing the authority to hold a referendum seeking local voters' views on a directly-elected mayor and cabinet.
Although there are risks involved, it says it could provide stable leadership and avoid the current jockeying for power between groups of councillors.
Ceredigion is the only Welsh county to hold such a referendum, where the idea was rejected in 2004.
'Political stability'
Progress towards the findings of the 2009 inspection "had not proved to be sustainable", the audit office report says.
Two key events are listed as having contributed to the latest "bout of instability": a split in the council's biggest political group last June and an attempt to overthrow the council's leader in January.
Recent events have "seriously undermined" promising progress in dealing with "inappropriate behaviour", the report adds.
A lack of differences between councillors about policy suggests "that at least some of the group leaders who continue to jockey for power following the recent attempted overthrow of the leader are motivated more by power itself and the advantages it carries, rather than by principle".
It says: "After a period of progress, conflict is once again having a corrosive effect that seriously jeopardises service delivery."
Instability and uncertainty is said to have badly affected staff morale.
Mr Thomas said: "It is disappointing that ministerial intervention has not succeeded in producing sustainable recovery for Isle of Anglesey council."
He said that in some respects the council had responded positively to the intervention, but a lot of work remained to modernise the council's arrangements.
"For this to happen there needs to be political stability within the council and I do not believe the council's current democratic arrangements support the changes that are needed," he added.
"In making specific recommendations for further ministerial directions, I hope that a stronger intervention combined with democratic renewal will help to resolve these issues and allow the council to move forward in a positive direction as well as securing sustainable recovery for the future."
A spokeswoman said Mr Sargeant would make an urgent statement to the assembly at Wednesday afternoon's plenary session.