Trust seeks west Wales badger cull 'legal advice'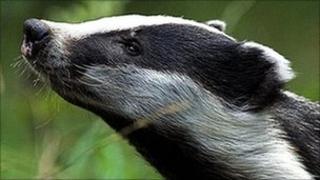 The Badger Trust says it will seek legal advice after plans for a badger cull in west Wales were revived.
The assembly government was forced to shelve the cull - part of a plan to deal with bovine TB in cattle - when the Badger Trust won a challenge in the Court of Appeal.
Rural Affairs Minister Elin Jones said she decided to push ahead after fully considering the evidence.
Farming unions welcomed the cull, but it was attacked by conservationists.
Ms Jones also announced new controls to deal with TB in non-bovines, which include camelids - such as llamas and alpacas - goats and deer. Like cattle, they will be slaughtered if found to be infected by TB after tests.
The Badger Trust said it was "deeply disappointed that the Welsh Assembly Government has resurrected its pointless proposal", adding: "The trust will be studying in detail the evidence presented to the minister and will be seeking legal advice."
The new order has been drafted so it applies only to an intensive action area of north Pembrokeshire and neighbouring parts of Ceredigion and Carmarthenshire where the cull will happen.
Stricter controls on cattle have also been introduced as part of the plan to eradicate TB. Compensation for farmers whose livestock test positive has been linked to good practice.
In the last 10 years, £120m has been paid in compensation to Welsh farmers who have lost cattle to TB.
Ms Jones said: "It's not a decision that any government minister, myself included, takes lightly."
Farming unions NFU Cymru and the FUW both welcomed the move, saying a cull was the best way to tackle bovine TB.
The Pembrokeshire Against the Cull (PAC) group said Ms Jones had "again ignored the science, sound economics, human rights issues and the views of the overwhelming majority of the public".
RSPCA wildlife scientist Colin Booty said the cull was "a dead-end policy in every respect".
Dr Chris Cheeseman, a badger ecologist who has spent more than 30 years looking at TB in badgers, said the announcement was a "depressing but somewhat predictable development".
He told BBC Wales: "I think the Welsh Assembly Government is on a mission to cull badgers and I've come to regard this as politically driven because the science really doesn't support the cull.
"There will be winners and losers - some farms may be prevented from getting TB in their cattle and other farms on the periphery of culled areas will be infected that wouldn't otherwise be infected.
"The vetinary profession are very much in league with the farming community and if we want a dispassionate view, we've got to have a scientist who has no vested interest and is coming at it from a scientific perspective."
If the order is not opposed by AMs it will come into force on 31 March, otherwise there could be a debate and a vote in the Senedd.
The assembly government says it cannot set a date for the start of the cull, and that it is too early to say whether measures to control disease are the reason for a recent improvement in TB figures.