Tighter laws on puppy farms delayed after opposition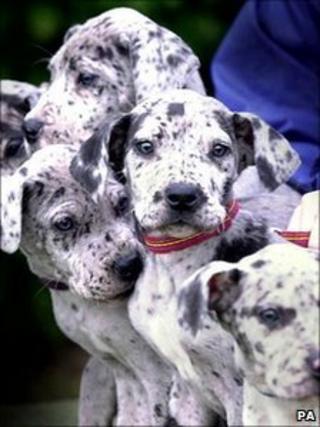 Proposals to crack down on puppy farms will be re-examined after opposition from dog lovers.
There was concern from people who breed dogs as a hobby that they would be caught up in the new regulations.
The delay also means a plan to make registered breeders microchip their dogs will not be introduced before May's assembly election.
Rural Affairs Minister Elin Jones said she wanted to target the controls on the right businesses.
The announcement of further work on the legislation was welcomed by dog enthusiasts who petitioned the Welsh Assembly Government for a rethink.
Opponents to the plans feared the regulations could mean small-scale breeders with just a few dogs would also require licences and face checks.
The original proposals would mean one person must be in charge of no more than 20 animals at licensed breeding premises. Breeders would have to microchip their dogs so buyers can identify where they come from.
Ms Jones said work will continue with the dog breeding and animal welfare sectors to make sure the legislation is "right for Wales".
The Welsh Dogs Advisory Group, set up to represent the interests of hobby breeders as a result of the proposals, said it supported the aims of the legislation to raise welfare standards in commercial puppy farms.
Colin Richardson, the group's secretary, who shows Skye terriers, said: "Many of our members had submitted responses and also written to their AMs to express their concerns at the drafting of this legislation.
"We look forward to assisting the Welsh assembly in endeavouring to ensure any proposed legislation is practical, makes best use of resources and is capable of achieving its aims."
Ms Jones said there was cross-party support for improving welfare, but her priority was to get the legislation right.
She said: "Whilst we received a wide range of responses there were some clear overall issues, including a general consensus that welfare of dog breeding has a high priority and that irresponsible breeding in so called puppy farms should be brought to an end.
Legitimate trade
"There are also concerns over whether the legislation as currently drafted is sufficiently targeted to control dog breeding businesses, and that some of the criteria for being licensed were too narrow."
There was "strong support" for compulsory microchipping in Wales, but there are "issues that need to be clarified" such as the impact on legitimate trade with England, she added.
"Given the time needed to ensure the legislation is right, it will not be possible to bring forward the final draft legislation within this government term," she said.
"We will therefore continue to work in developing the final draft regulations in preparation for early action by a new government should they wish."