Wales referendum: Has the nation warmed to devolution?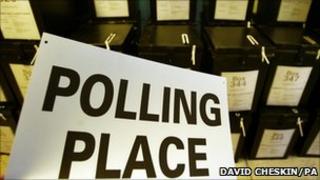 As voters go to the polls on Thursday to decide whether the Welsh assembly should have direct law-making powers, Guto Thomas looks at what the opinion polls tell us about public attitudes towards devolution.
In a time when there are surveys of public opinion for every niche interest, perhaps it is surprising that so little is known about the state of Welsh political opinion.
There is an election almost every year, providing a straw in the wind about the likely fortunes of the Welsh political parties.
But for most of the period since devolution, there has been little polling measuring voting intentions, leaving the experts to rely on general observations and gut instinct.
However, the past year or so has seen a change, with regular polls giving us some insight into the way people in Wales intend to vote - not just in the forthcoming assembly elections, but also in this week's referendum.
It could be argued that the early and infrequent opinion polls about extra powers for the assembly were crucial in bringing about this referendum.
Fledgling institution
Within a few years of devolution, full-blown opposition to the existence of the assembly shrank as support grew for the fledgling institution and later, for an assembly with greater powers.
An opinion poll for BBC Wales/ICM suggested in June 2007 that 47% might say Yes in a referendum vote, with 44% against, and a surprisingly low 9% saying they did not know.
An ITV Wales/YouGov poll in January suggested that 49% might vote Yes, and 26% No - with the number of people saying they didn't know how to vote having increased to 26%.
This suggests the percentage lead for the Yes vote appears to have increased from just 3% to 23%.
The biggest opinion poll leads for a Yes vote were even larger - ranging from 27% (ITV Wales/YouGov June 2010), 32% (Western Mail/Beaufort November 2010) to 33% (BBC Wales/ICM November 2010).
These findings come from three different polling companies, with three different methodologies, working for three different clients, but all suggesting one clear outcome.
Despite this, there has not been a uniform trend of ever-increasing support for a Yes vote - the polling data suggesting instead a constant ebb and flow of generally supportive public opinion.
If you take a rough average of the 25 opinion polls since June 2007 to test the referendum question (although the question itself has varied over time), the average in favour of a Yes vote is 49.88% - still 17 points ahead of the No vote, but nowhere near the comfortable majority that Yes campaign strategists would hope for.
Key question
As all politicians will testify, opinion polls are merely an indicator and should be treated with a healthy degree of caution, but it will nevertheless be fascinating to see the result of the final pre-referendum poll from ITV Wales/YouGov this week.
The key question is whether voters' opinions have hardened during what many observers regard as having been a low-key campaign - and in particular to see whether either side has managed to impress the quarter of voters who told these pollsters in January that they simply didn't know which way to vote.
In 1979, 58.3% of the Welsh electorate cast their votes, to deliver a crushing rejection of devolution to James Callaghan's weakened Labour administration.
In the 1997 referendum, 50.3% voted and delivered the slimmest of majorities to establish the assembly.
The lowest turnout for any vote in Wales since 1979 camein the European Parliament election in 1999, with a 28.1% turnout - followed by just 30.4% in the same set of elections to Brussels in 2009.
Turnout for the assembly elections has also been low in comparison to Westminster elections - with 46.3% in 1999, 38.2% in 2003 and then 43.5% in 2007 - around 20 points behind comparable UK general elections.
With only hours left to make up their minds, how many voters will turn out on Thursday?
On Friday BBC Wales will publish its annual survey on attitudes to devolution to coincide with the result of the referendum.