Wikileaks reveals US cable on 'weak' Welsh devolution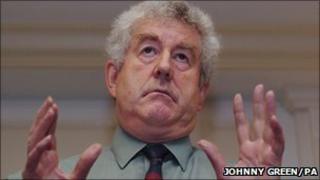 A confidential US embassy cable from 2008 obtained by whistle-blowing website Wikileaks called devolution in Wales "weak and troubled".
Peter Hain and Eluned Morgan, it said, were seen as the only credible successors to Rhodri Morgan.
Quoting Labour MP Hywel Francis, it said AMs hoping to succeed the then first minister were seen as flawed.
But Dr Francis responded that he did not recall such a conversation and he was an early supporter of Carwyn Jones.
Welsh Labour responded to the leak by saying it was "impervious to the skills of the US diplomatic corps".
A US embassy political officer wrote in the cable that many in Welsh Labour were looking for a "white knight" to lead the party after Mr Morgan's departure.
Mr Morgan stood down as Welsh Labour leader and first minister in 2009. His eventual successor, Carwyn Jones, and the AMs he defeated in the election - Edwina Hart and Huw Lewis - are not mentioned in the leaked cable.
The two names discussed in the cable are former Welsh secretary Mr Hain, and ex-MEP Eluned Morgan, who is now Baroness Morgan.
Dr Francis, the then chairman of the Commons' Welsh affairs select committee, is also quoted as suggesting that two unnamed AMs could be "made offers they couldn't refuse, such as peerages" so they would resign and vacate their seats.
The cable's author was told by Dr Francis that "several AMs are positioning themselves to succeed Morgan, but all are seen as flawed and many in the Welsh Labor (sic) party are still looking for a 'white knight' who has the stature and vision to lead the assembly as Labor prepares for the next election in 2011 in the face of weakening political support".
The cable adds that senior party officials in London had called on Mr Morgan to stay in office until he stood down as an AM this year.
However, Dr Francis said: "I do not recall such a conversation. It sounds as if the diplomat suffers from poor shorthand.
"I would have said all the candidates had strengths and weaknesses.
"It is on the record that I was an early supporter of Carwyn Jones and I believe I made the right choice.
"I would certainly not have supported such an absurd suggestion as parachuting anyone into the assembly."
'Few economic gains'
The cable, published on the website of the Daily Telegraph, paints a bleak picture of both Welsh devolution and the economy in Wales.
The document reads: "Devolution is weak and troubled in Wales, the economy is the worst in the UK (England, Scotland, and Northern Ireland are all doing better) and both Plaid Cymru and the Tories are showing gains in Wales.
"No signal has come from either potential white knight candidate concerning their interest in succeeding Morgan After 11 years of Labor with few economic gains to show and disenchantment with devolution, both opposition parties are polling stronger against Labor.
"The polling gains could see the current power-sharing arrangement with Plaid Cymru extended at the price of a Plaid first minister."
A Welsh Labour spokesman said: "Everyone at Welsh Labour is proud of the fact that we are operating a political operation totally impervious to the skills of the US diplomatic corps.
"If you have a problem, if no one else can help, and if you can find us, maybe you can hire… Welsh Labour."
A Welsh Liberal Democrat spokesman said: "It says volumes when a senior Labour MP believes that all Welsh Labour AMs are flawed and none are worthy of leading Wales. This is especially worrying when you have 25 of them to choose from."