Welsh councils get £7m to repair potholes after freeze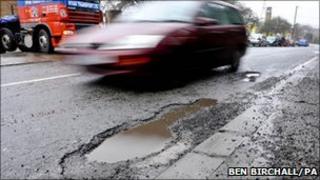 Councils have been promised £7m to fill potholes in Welsh roads.
The money from the Welsh assembly government is to mend roads damaged by heavy snow and ice before Christmas.
It comes after a motoring organisation warned drivers in Wales were more likely to suffer from potholes than those in England.
The assembly government said the latest round of funding was made available thanks to "careful and prudent management" of its resources.
It said the money would help councils cope with the pressure of a second successive harsh winter.
Councils were given a similar sum to buy grit and mend potholes in December.
The Institute of Advanced Motorists (IAM) last month said Welsh drivers rely more heavily on local-authority maintained main or A roads.
Budget cutbacks for councils would mean poorly-maintained roads, the IAM claimed.
The Welsh Conservatives last week described the state of Wales' roads as "totally unacceptable" when figures from the Asphalt Industry Alliance showed the number of "visual defects" had risen 127% in 10 years.
'Hard winter'
Deputy first minister Ieuan Wyn Jones said: "This additional investment will further improve the safety and condition of our roads and demonstrates our commitment to helping local authorities repair potholes that have developed following another winter of heavy snowfall.
"While the responsibility for maintaining local roads rests with local authorities, this assembly government has again shown that it is keen to work with them as much as possible when we are hit with unexpected bad weather as happened over the Christmas period.
"This funding will enable councils to fund further repair works and improve our roads network."
Finance minister Jane Hutt said: "By being more efficient and innovative I am able to provide funding for key infrastructure and frontline public services.
"Prudent financial management has allowed funding to be made available in-year for immediate priorities, such as road repairs following the hard winter."