Meet two members of BBC Wales' People's Assembly
Abdul-Azim Ahmed, 22, Cardiff - plans to vote Yes
Abdul-Azim Ahmed thinks the Welsh assembly has had a big impact on his life.
The 22-year-old student from Cardiff is working towards a social sciences masters degree about Islam in Britain. He thinks Wales is an example of how different communities can come together in a multicultural society.
He is not a member of a political party, but takes an interest in politics through his student union and is a member of his university's Islamic society.
Mr Ahmed said AMs in Cardiff Bay have an opportunity to stay in touch with the communities they represent, unlike politicians in Westminster.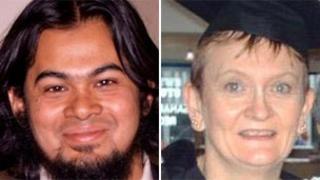 "The MPs, because of the distance that they have got, they live in a bubble in Westminster," he said.
He wants to see politicians who are "based somewhere where they actually represent".
'Difference to my life'
"I want to hear the kind of commitments that indicate that they are not individuals who are running because they want to get a job for four years."
In the referendum on 3 March he will vote Yes to devolving more law-powers.
"It's quite a technical referendum issue," said Mr Ahmed. "It's not something you can shout from the rooftops about.
"But it makes sense if you believe devolution is working. It (the referendum) is removing a layer of bureaucracy and removing some cost.
"The things that have been delivered to me seem to be very tangible, like student fees and free prescriptions. They make a difference to my life and they make a difference to my parents' life.
"There are definite benefits there that I would have missed out upon if devolution had not taken place."
Jacqueline Anne Harrison, 46, Wrexham - plans to vote No
After graduating from Glyndwr University in computing last year, Jacqueline Anne Harrison, 46, says she is worried about the cost of higher education.
Ms Harrison, of Acrefair, Wrexham, worked for the clothes chain Peacocks to pay her way through university and would like to train as a teacher - but she wants politicians to listen to people's concerns about access to university.
"I got my tuition paid for me, but there are other expenses. You've got all the books and all the elements," she said.
"It's not just a one-dimensional thing to think about.
'Different things'
"It's of great interest to me, not just for myself."
Politicians could also do more to improve access to public places for disabled people, she said.
"I think they could make people on councils more aware of disability issues and set aside funds to make these areas more accessible."
She said it seemed that north Wales was hit worse by cutbacks than the south.
"When I read about different investments and different things happening between north and south Wales there always seems to be a larger proportion going to the south.
"We always seem to hear about cuts or potential cuts in the north."
Ms Harrison voted against devolution in 1997 and plans to vote No to more law-making powers at the referendum on 3 March.
"I can't see north Wales benefiting a great deal and I shall be voting against them having the extra powers."