Assembly steps for powers to merge Wales councils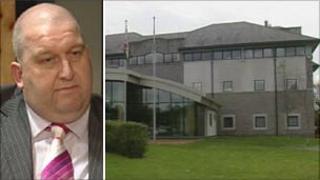 The future of the troubled Anglesey council is in doubt following new legal steps in the assembly.
Late amendments to the Local Government Measure would allow ministers to force councils to merge.
It is thought the council, already under special measures, faces a merger with neighbouring Gwynedd.
Local Government Minister Carl Sargeant ruled out wide-scale mergers but the Lib Dems warned of "arrogance" and want specific proposals for Anglesey.
But Mr Sargeant told AMs on Wednesday it was his duty to "step up to the mark" in the case of failing authorities to "do something about them".
His comments will strengthen speculation that an announcement about the future of Anglesey council will be made in the near future.
In December, Gwynedd and Anglesey councils were told they must find ways of working together to save money.
The councils have said previously that there was a "willingness" to look at the possibilities.
And a full scoping study will be undertaken by February.
The amendment published on Wednesday night allows for ministers to amalgamate councils only in certain circumstances.
This means future assembly governments would not be able to undertake any significant reduction in Wales' 22 local authorities without further legislation.
Mr Sargeant said: "What we are looking to do through the Local Government Measure is ensure that we have good effective local government and public services for the people of Wales."
Dominic MacAskill, head of local government for Unison in Wales, said the public section union had a long standing view that 22 local authorities was unsustainable.
"The logic of reducing the number of authorities is not contradicted by many people now," he told BBC Radio Wales.
"But it's how you move that process forward, taking into consideration the staff and how you manage that change in the most appropriate way."
But he added that local government reorganisation was not the current issue in Wales.
Anglesey council was put under special measures by the assembly government in 2009.
It followed a damning report by the Auditor General for Wales after an inspection revealed weaknesses in the way the council was run.
Ieuan Wyn Jones, AM for Ynys Mon, told Radio Cymru's Post Cynta programme that it was important Anglesey council put its house in order.
"Time is running out, I accept that, and I think the people of the island now feel the situation in the council needs to be resolved. I hope we can acheive that soon," he said.
"Of course, there are other steps the minister can take, short of the measure, and he will, of course, be considering those carefully over the coming weeks."
The Welsh Liberal Democrats said the Labour-Plaid Cymru coalition showed "outrageous arrogance" that would give ministers powers to merge or amalgamate councils "with minimum debate and consultation".
The party's local government spokesperson Veronica German AM said: "Ministers seem to be indicating that it is only relation to Anglesey that they will use these powers, in which case they should be honest about what they see as the issue in Anglesey and bring forward specific proposals to address them."