AMs' voice 'deep concern' about school science lessons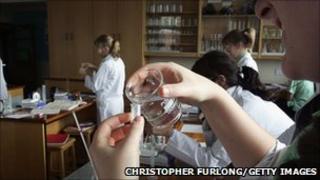 Science subjects need to be made more appealing in Wales' schools, say a group of assembly members.
Their report said science and technology suffered from poor perceptions among pupils and teachers.
The cross-party enterprise and learning committee said it was "deeply concerned" following an inquiry into science, technology, engineering and maths (Stem) subjects.
The assembly government said it was committed to raising standards.
The committee found that with the exception of biology and chemistry, there was a gender imbalance in Stem subjects, with girls less likely to take them up.
In 2008, just 22% of A-level physics students were girls, the report said.
It recommended that the assembly government's chief scientific adviser should evaluate schemes to address negative perceptions and gender stereotypes.
More schools should offer triple science courses instead of combining them into a single subject, the report said.
AMs also called for action to address a lack of high-quality teachers.
Estyn, the schools inspection body, said the quality of teaching in secondary schools was poorer in science and mathematics than in other subjects.
AMs were also told that the proportion of Welsh pupils taking biology, chemistry, physics and maths at A-level was significantly below the rest of the UK.
Retired physics teacher Stuart Jones, former deputy head teacher at St Alban's RC High School, in Pontypool, Torfaen, gave evidence.
He said: "We were talking about deficiencies in recruiting and getting more students to take up physics 37 years ago and we are still talking about it now.
"One of the main barriers is that kids and parents find physics very, very difficult."
He said the gender imbalance and negative perceptions of science among girls was a "real issue".
Committee chairman Gareth Jones welcomed the appointment of a chief scientific adviser to oversee Stem subjects.
But he added: "Our inquiry has left us deeply concerned about a number of issues.
"Stem subjects still suffer from poor perceptions, not only among pupils but also teachers and school authorities. There is a need to improve this so that the subjects are more appealing.
"We also heard that the quality of teaching and leadership in Stem subjects is often wanting."
'Clear commitment'
The report noted that the worldwide Programme for International Student Assessment showed 15-year-olds in Wales scored significantly lower than the OECD average and other UK countries for mathematics.
It comes in the week that Estyn revealed four in 10 pupils in Wales had reading skills below their actual age, and councils in Wales spent an average £604 less on each pupil compared to councils in England.
An assembly government spokeswoman said: "The minister has made a clear commitment to raising standards across the board in Wales.
"We are actively encouraging the take-up of Stem subjects, with an increased emphasis on science, technology, engineering and mathematics.
"We will now take time to consider the report."