Harri Lloyd Davies urges Welsh Conservative breakaway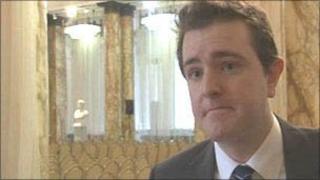 A prominent Welsh Conservative has called for his party to formally break away from the party in England.
Harri Lloyd Davies, chairman of Swansea West Conservatives, said the move would strengthen the Tories' credentials with Welsh voters.
Speaking to BBC Wales' CF99 programme, he also questioned the appointment of Cheryl Gillan as Welsh secretary.
Conservative MP Guto Bebb said the party had enjoyed more success at elections under Mrs Gillan.
Mr Lloyd Davies said the decision not to appoint an MP from a Welsh constituency as Welsh secretary could give the party's opponents "an awful lot of ammunition".
Welsh-born Mrs Gillan represents the Buckinghamshire seat of Chesham and Amersham in parliament.
Mr Lloyd Davies said her appointment risked giving the impression that the party "was not Welsh enough".
A former Conservative assembly candidate, he said: "I hope, as I say, that there will be a different party in Wales."
He added: "I think it's an image problem at the moment. I think a lot of people out there would agree with a lot of what the Conservatives in Wales are saying, but because of the name, to be honest, the fact is that we are still seen as the 'boys from London'."
On Mrs Gillan, he said: "She does come from Wales but she doesn't stand in a seat in Wales. That's the problem we have at the moment.
"I'm happy with Cheryl Gillan. I think she does a good job.
"But it's just the fact that it looks to everyone in Wales that we have not quite turned the corner yet, we don't look Welsh enough."
'Solid relationship'
Aberconwy MP Mr Bebb told the programme: "The truth is that in the period that Cheryl has led the party in the context of being the Conservative Party's spokesperson on Wales, now of course the secretary of state, we have seen an increase in every election the Conservative Party has stood in.
"So if Cheryl is so unacceptable to the voters in Wales I would like to know why they are turning to us and voting for us."
He added: "I think what's important - and this is happening already - is that the party in Wales has the freedom to develop policies in the context of the assembly election that are policies which are developed in Wales for the people of Wales.
"On freeing or differentiating between the party in London and Cardiff I think it's important to note that the Conservative Party is a unionist party and there will be a permanent relationship.
"Whether that relationship changes or not is another matter, but there will be a solid relationship continuing in the future."