Transport projects cost £226m above estimates - audit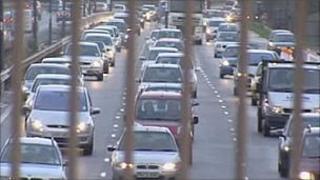 Major road and rail projects in Wales have cost substantially more and took longer than expected, the public spending watchdog has found.
It means delivery of wider transport objectives has been hampered, says the Wales Audit Office (WAO).
A report into 18 major projects found the total cost rose from an estimated £366m to £592m, with final project costs an average 61% higher.
The assembly government said it was improving the way it delivered schemes.
The projects were completed between late 2004 and early 2010.
On average, just under two-thirds of the increases in estimated final costs happened before construction contracts were awarded.
'Performance varied'
The performance of projects varied significantly. While some experienced significant cost increases and delays during construction, others were delivered to time and on budget during the construction phase.
In the south Wales valleys, the Porth relief road started off with an estimate of £33m but by 2009, the project had cost £97.6m.
Estimates on work on the A497 between Abererch to Llanystumdwy rose from £10m to a spending of £19m by the time it was completed.
Projects cost more and took longer to complete for a variety of reasons, although construction price inflation and deferrals because of budget constraints were highlighted as significant factors.
Other reasons included poor weather, unforeseen work, design changes and protracted negotiations, for example over land costs and compensation.
Meanwhile, with the Ebbw valley railway, the discovery of slow-worms and common lizards added three months and £950,000 to the rail project linking Ebbw Vale with Cardiff, and accounted for some, but not all, of the delay in opening the new Llanhileth and Cross Keys stations.
The report says the assembly government has strengthened its processes for managing the trunk road projects under its direct control.
It has tried to improve the way it manages risks, including providing more realistic cost and time estimates, it said.
Huw Vaughan Thomas, the auditor general for Wales, said: "Cost increases and delays in major transport projects are by no means unique to Wales, but there has been an inevitable knock-on impact in terms of the assembly government's ability to deliver its wider transport programmes.
'Robust estimates'
"The action taken to try and improve the management of individual projects is important, but the assembly government also needs to be realistic about what it can deliver within future transport budgets based on robust estimates of likely project costs and timescales."
The report said: "Before 2009-10, the assembly government exercised only limited control over local authority managed transport grant projects despite carrying most of the financial risk.
"The assembly government had provided relatively little project management guidance or direct support to local authorities despite concerns about the capacity of local authorities to deliver major transport projects."
It went on to state that "during the last two years, the assembly government had exercised greater control over the local authority projects it managed".
Darren Millar, Conservative chairman of the assembly's all-party public accounts committee, said the report came a year after the assembly's finance committee criticised the way the assembly government handled its trunk road programme.
"Today's report raises fresh concerns about cost increases and delays, not only for certain trunk road projects but also for other major transport projects managed by local authorities but funded by the Welsh government," he said.
"Although these projects are fraught with risks and uncertainties, I am concerned about whether these issues have been properly considered when estimates of likely project costs and timescales are made."
He said it was good the report highlights areas of improvement but he said it "remains to be seen" whether the changes would bring improved performance.
Deputy First Minister Ieuan Wyn Jones, who also holds the transport portfolio, acknowledged the suggestion that projects may have been estimated at a deliberately low level by councils to ensure the plans were signed off, because any risk fell to the assembly government.
He told BBC Radio Wales: "Historically, that might well have been the case.
"What we've now done is tighten up the agreement with local government so that we give them a financial envelope within which they have to deliver, and then we make it clear that we cannot go over that cost.
'Slippage'
"What you then find is that the discipline that gives is that everybody then understands that projects have to be better controlled.
"It's good discipline anyway because you obviously want to keep within the budget that you have and it's public money and it's got to be spent well.
"But in times of financial constraint, then obviously, if cost overruns happen, then nothing else can come into the scheme for future years."
Mr Jones said the problem of cost overruns stemmed from the UK-wide system employed prior to devolution and was not attributable to any particular government.
Stuart Cole, professor of transport at University of Glamorgan Business School, said construction costs had risen during "slippage" in the timetable of schemes.
He said: "The inflation element had not been taken into account, and that's in a number of the schemes. And that seems to have been one of the biggest flaws in the old system.
"For example, you had a scheme like the A40 from St Clears to Haverfordwest, which was originally estimated at £27m, then subsequently when the contract was signed at £40m, that was the big jump because there was only a three-year gap there.
"But the final cost wasn't actually much more than the estimated agreed price, just over £41m.
"Certainly a number of schemes that were examined by the audit office showed that utility companies had not been fully involved.