MP Martin Caton wants pesticide suspended to aid bees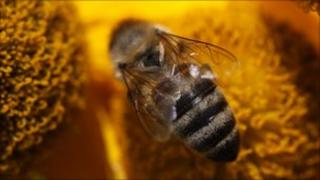 An MP says the use of a type of pesticide should be suspended because of concern that it harms bees.
Martin Caton, the Labour MP for Gower, used a debate in parliament to call for better research into the impact of neonicotinoid pesticides.
Bees played a important role in the food supply, he said.
The UK government said there was no evidence neonicotinoids posed an unacceptable risk, but it would act if presented with new evidence.
Mr Caton told BBC Wales' AMPM programme that the decline of pollinating insects, including honeybees, was a worldwide problem.
"There is strong and increasing evidence, as far as I'm concerned, that one of the things responsible for the loss of these insects is a new systemic pesticide called neonicotinoid pesticides," he said.
"I'm asking the government to look at this seriously and at the very minimum to suspend allowing the use of this type of pesticide on plants that bear nectar or pollen.
"In that way we would put up a first line of defence for our pollinating insects."
He said there was evidence from research that the pesticide weakened bees, making them vulnerable to disease.
Licenses should be suspended and no new ones awarded until the situation is clarified, he said.
'Most important tier'
Invertebrates were "probably the most important tier of animal life on the planet", Mr Caton added.
"If we lost our pollinators then our food supply would be absolutely destroyed and it would create huge problems for the human population."
Conservative AM Andrew RT Davies also told the programme that pesticides played an important role in producing food.
"It's easy to knock the agro-chemical industry, but if you look at the development we've had over the last 40 to 50 years pesticides and the agro-chemical industry have played an important part," he said.
"Yes they have issues to raise and research and be held to account, but actually if you look at mass food production and the ability to feed the world they play a vital role in our ability to do that."
The Department for Environment, Food and Rural Affairs said it recently contributed £2.5m to a project to address the decline of honeybees
A spokesman said: "The UK has a robust system for assessing risks from pesticides and all the evidence shows neonicotinoids do not pose an unacceptable risk when products are used correctly.
"However, we will not hesitate to act if presented with any new evidence."