No official campaigns for Welsh assembly referendum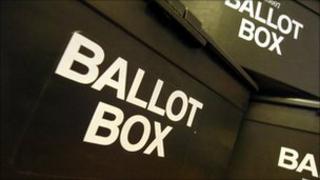 There will be no officially-designated lead campaigns for the Welsh assembly powers referendum, it has been confirmed.
The Electoral Commission said the only applicant to be the official No campaign for the 3 March vote did not meet its statutory test.
The law says lead campaigns must be designated on both sides or not at all.
The commission said it would seek the views of registered campaigners on how to help voters get information.
Voters will go to the polls to decide whether the assembly should have further law-making powers over devolved policy areas.
The commission's head in Wales, Kay Jenkins, said people should look out for an information booklet on the referendum next week.
"A number of campaigners - including political parties, individuals and trade unions - have also already started their campaigns," she said.
"So there should be plenty of opportunities for voters to hear the arguments of both sides in the media, in campaign materials and online."
There were two applications to become lead campaigns.
Lead campaign status comes with £70,000 of public funding, free mail-shots and TV and radio broadcasts
The commission said an application from the Yes for Wales group, chaired by Welsh Rugby Union chief executive Roger Lewis, adequately represented people campaigning for a Yes vote.
But it said an opposing application from the blogger David Alwyn ap Huw Humphreys did not adequately represent No campaigners.