Portraits of Rhodri Morgan at work and play unveiled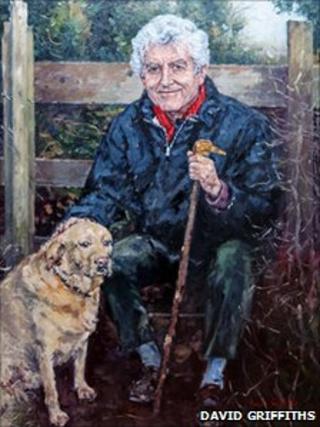 Two portraits of former First Minister Rhodri Morgan have been commissioned to mark his contribution to Welsh public life.
The paintings will hang at the Welsh assembly in Cardiff and at the National Library of Wales in Aberystwyth.
One of them shows Mr Morgan and his labrador William Tell in countryside near his home, and the other portrays him at his ministerial desk.
Artist David Griffiths said the Cardiff West AM was a "delight" to paint.
The portrait of Mr Morgan and his dog - paid for with the contributions of politicians, business and sports people, individual sponsors and trade union members - will be unveiled at a reception in the Senedd on Wednesday night.
Mr Morgan sat for the paintings at home and at the artist's studio over several months last year.
Cardiff-based Mr Griffiths rose to prominence for painting the Prince of Wales receiving the freedom of the city of Cardiff in the year of the investiture, 1969.
Other famous Welsh subjects include rugby player Barry John and boxer Joe Calzhage.
He said: "Being commissioned to paint Rhodri has been a great privilege and I was fascinated by his many and varied stories and anecdotes. He was a delight to portray."
Deputy presiding officer Rosemary Butler, who led a fund-raising appeal for the commission, said: "Rhodri has played a major part in the history of modern Wales and his admirers felt that his contribution should be recognised with a portrait for public display.
"I was delighted with the response to the appeal and I am sure that everybody will be thrilled when they see the portrait."
Andrew Green, librarian of the National Library, said: "We house many of David Griffiths' portraits of famous Welsh people, such as Bryn Terfel, Gwynfor Evans and Sir Geraint Evans.
"It's very fitting that the former first minister is now also a part of this important portrait collection."
The Aberystwyth painting will be unveiled on Saturday to coincide with the library's open day.