Unions and Welsh councils' deal to spare jobs from cuts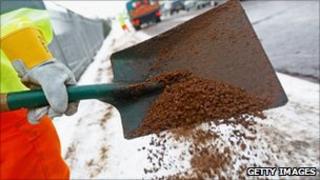 Council chiefs have reached a deal with unions on how to shield staff from public spending cuts.
The agreement lists options for making savings, including looking at council tax levels and changes to services.
First Minister Carwyn Jones, who brokered the deal, said it showed a willingness on all sides to avoid redundancies.
Council leaders said compulsory job losses might not be completely avoidable.
The voluntary agreement sets out how authorities and trade unions can work together to deal with shrinking budgets.
Car allowances, overtime and weekend working allowances are listed as potential areas for savings, as are pay protection and redeployment allowances.
'Complete transparency'
The memorandum of understanding follows discussions between the Welsh Local Government Association (WLGA) and the Wales TUC.
Announcing the deal, the Welsh Assembly Government said it provided a consistent approach to cost cutting that would reduce the impact on any particular part of the workforce.
It said discussions about local finances will take place with "complete transparency" and will consider "all avenues for dealing with deficits including service delivery and council tax levels".
Earlier this month, staff at Neath Port Talbot council agreed pay cuts, overtime and travel allowances as part of the authority's cost cutting measures.
Meanwhile, unions have attacked plans by Rhondda Cynon Taf council to make thousands of staff accept lower deals on pay and conditions.
WLGA leader John Davies said signing the memorandum was a "significant achievement".
"It signals willingness by the Welsh Assembly Government, the local government employers and trade unions to put job retention within councils as one of our core objectives in this tough financial climate," he said.
"The aim is to positively examine a menu of options agreed nationally within this framework.
"The employers remain concerned that because of the difficult financial situation that compulsory redundancies may not be completely avoided and that may need to be reflected in local discussions.
"However the key point is that the agreement is the first of its kind in the devolved setting and signals a different Welsh approach to dealing with cuts and avoiding job losses wherever possible."
'Challenges of public spending'
Wales TUC general secretary Martin Mansfield said: "This is a hugely significant step forward in developing a Welsh way of dealing with cuts imposed on us from London.
"It mirrors the approach we adopted in response to the economic crisis - unions, employers and Welsh government working together in partnership to find innovative solutions.
"There will be different local circumstances for each authority to discuss with their trade unions but this agreement provides a solid framework for those discussions."
He added: "The Wales TUC believes that this all-Wales agreement will provide the flexibility required to mitigate the effects of the Westminster cuts - placing jobs and services at the heart of our response."
First Minister Mr Jones said: "This shows the willingness of all parties to work together to address the challenges of public spending cuts and to protect the workforce from compulsory redundancies as far as possible.
"Our local government workforce is our greatest asset in delivering vital services to the people of Wales.
"The agreement will help local authorities to sustain and improve the services on which people depend."