Hart: Opt-out organ donation plan 'no burden for NHS'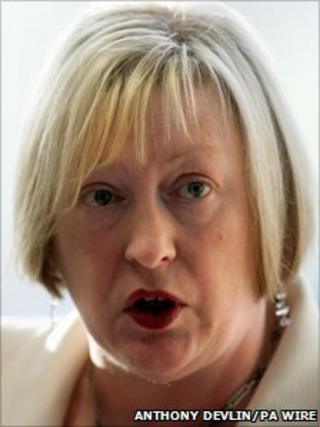 Opt-out organ donation in Wales would not cause any problems for the NHS in Wales or the rest of the UK, the health minister said.
Edwina Hart said it would be "altruistic" for Wales to move to a presumed consent system.
It would mean that people in Wales must indicate that they do not want their organs given for transplant when they die.
She told AMs the organs would be available to patients across the UK.
The assembly government has called for the law-making powers over organ donation to be devolved so it can introduce a soft opt-out system.
Supporters say it would help make more organs available for patients who need transplants.
Mrs Hart appeared before AMs to answer questions about the law-making bid.
She said: "I don't think it would put too much of an administrative burden on the health service in Wales and I don't think it will cause any problems across the border."
She said any organs taken from people who die under a Welsh opt-out system would be available to patients needing transplants in other parts of the UK.
"At the end of the day we are still part of the United Kingdom, we are still part of the European Union," she added.
"So at the end of the day, Wales as a nation is being altruistic in terms of what it wants to undertake because these organs cannot be guaranteed to people in Wales.
"They will form part and parcel of the national list for the appropriate matches to be made."
She also insisted that the assembly government's request for powers, known as a legislative competence order (LCO), was lawful.
The Attorney General Dominic Grieve has raised concerns about the LCO, including whether it is outside a devolved field and the practicalities of having different systems in England and Wales.