Lord Elystan-Morgan criticises bill to reduce MPs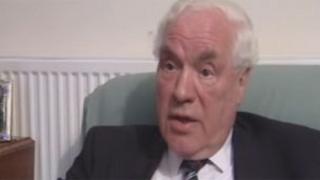 Cross bench peer Lord Elystan-Morgan has criticised plans to reduce the number of MPs in parliament.
The former Cardigan MP, Labour minister and judge described the idea as "utterly superficial".
A bill could see the number of MPs in the Commons cut from 650 to 600 - 40 to 30 in Wales - to "reduce the cost of politics", according to ministers.
But the peer says "ancient communities hammered out on the anvil of the centuries" would be lost.
The bill, which also includes the trigger for a referendum on changing the voting system, was raised last year but has now moved to the Lords.
Lord Elystan-Morgan said "arithmetical consistency" was different from "equality", explaining that two constituencies weren't the same just because they had the same number of constituents.
He said one could be a city constituency which could be cycled across in 15 minutes whereas the other could be a huge rural community such as Brecon and Radnorshire taking "hours and hours" by public transport.
"There is no equality," he told BBC Radio Wales' Sunday Supplement.
"People have a cultural identity, there is a historical consistency, there are ancient boundaries that have been respected for centuries and yet all of this, in regards to at least two thirds of them, will be brought to an end.
"And that link between a member of parliament and his constituents will be broken," he said.
The proposals were announced by the UK government, shortly after the general election, saying they would bring fairness and "reduce the cost of politics".
Last July, Wales Office Minister David Jones told the Welsh Grand Committee that it was "worrying" that a vote in parts of Wales was worth, in some cases, double that of a vote in the south of England.
"That needs to be addressed," he said, adding that it was "wrong in principle" that votes should carry different weight.
"It is also a matter of concern that the Welsh vote has not been looked at again at a time when we have the National Assembly, and Wales has representation in another legislature," he added.