Carwyn Jones warns over no 'No' referendum campaign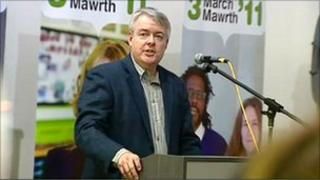 First Minister Carwyn Jones claims there is a "severe danger" of there being no properly constituted No campaign in the referendum on further assembly powers.
Mr Jones said if that was the case there could not be a publicly-funded Yes campaign for the vote on 3 March.
The cross-party Yes campaign was officially launched on 4 January.
True Wales said it would launch its campaign at Newbridge Rugby Club on Wednesday 19 January at 1730 GMT.
It is up to the Electoral Commission to designate an official Yes and No campaign, but both must pass a series of tests before they can reach that status and get access to £70,000 to organise their campaigns..
'River of money'
Under the rules, the commission has to designate an official campaign group from each side, or none at all.
Speaking at first minister's questions in the Welsh assembly, Mr Jones said: "There is, I think, a severe danger that there won't be a properly constituted No campaign.
"That, of course, means there can't be an official Yes campaign given the strange rules that are in operation for this referendum.
"What's the response to that? Well, clearly I think it's important that the all-party Yes campaign is as strong as possible, has as many volunteers as possible, with as many donors as possible as well, because let no-one think there is a river of money that can be used to fund a Yes campaign - we know that isn't the case."
Mr Jones was responding to a question from Plaid Cymru AM Helen Mary Jones, who said that without official Yes and No campaigns, electors in Wales would not have sufficient information about how they wished to vote in the poll.
The 'Yes' campaign is chaired by Welsh Rugby Union chief executive Roger Lewis.
'Fort Senedd'
True Wales spokesman Len Gibbs said the 'No' campaigners spoke to the Electoral Commission on Monday about its application.
He said: "True Wales has no concern what Carwyn Jones or anybody else thinks as it has a determined and decided policy that is being progressively implemented.
"True Wales had been campaigning for two-and-a-half years and has gained support from people from every part of Wales and is gaining support by the day.
"The severe danger to the politicians at Fort Senedd is the strength of the True Wales message.
"True Wales will continue to urge people who live in Wales and vote in Wales to vote 'NO' on 3 March for a better devolution.
"Plaid AM Helen Mary Jones should have no concern about voters having sufficient information on why and how to vote by just visiting the True Wales website and reading the new articles posted each day."