Welsh student debt 'to vary' in mergers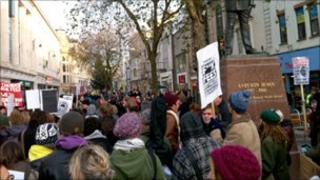 The president of NUS Wales says giving financial incentives to Welsh universities to merge could leave students with varying levels of debt.
Katie Dalton said graduates at institutions which merge would have less debt.
Education Minister Leighton Andrews has said universities could charge up to £9,000 in fees, but that students living in Wales would be protected.
A former higher education advisor said the minister was 'intent' on mergers.
On Friday Mr Andrews said higher education institutions must "adapt or die". He said their ability to charge higher fees would depend on their willingness to change.
Ms Dalton told Radio Wales: "I'd like to see the minister justify that to students - one of them might graduate with £40,000 of debt simply because their institution didn't merge, another student could leave with £25,000 of debt."
While not 'completely opposed' to mergers, she said provision for student parents and those with caring responsibilities should be considered.
"The merging agenda has been on the table for a long time and if this means that more money can go to frontline delivery and more money to improving the student experience, that's excellent.
"There are a couple of issues that we're concerned about and the minster assures me that these are being taken seriously."
Also speaking on BBC Radio Wales, economist Ken Richards, a former advisor on higher education to the assembly government, highlighted a report from 2005, which suggested that the University of Glamorgan, Uwic (University of Wales Institute Cardiff) and Newport University should merge.
He said combining universities could 'improve their act' and give a 'better deal' to students.
Mr Richards says that although reconfiguring higher education is never easy, Welsh universities have to 'wake up' to Mr Andrews' "adapt or die" call.
"In the past funds have been available for re-configuration, there's been a 'carrot' there, but the universities manifestly failed to come up to the mark and agree to merger.
"Universities are going to have to respond to the stick, as it were, because they're going to find themselves in some difficulty."
Earlier this year, Uwic claimed there was 'no benefit' in merging with the University of Glamorgan.
Swansea Metropolitan and Trinity Saint David universities are understood to be in merger talks, but it is unclear whether any other Welsh universities will consider a similar move.