AMs unanimously back Welsh assembly powers referendum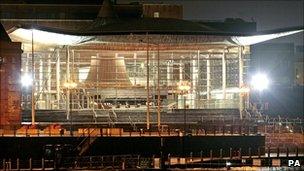 Welsh Assembly Members have voted unanimously for a referendum on greater law-making powers.
It confirms that the referendum will be held on Thursday, 3 March next year, subject to parliamentary consent.
Voters will be asked: "Do you want the assembly now to be able to make laws on all matters in the 20 subject areas it has powers for?"
Currently the assembly has power to create laws when the UK Parliament has specifically agreed that it can.
The Electoral Commission which oversees the process - has been preparing information which will go to every household in Wales.
This is to help voters across the country understand the issues and be confident about casting their vote.
The draft order will now be debated in both Houses of Parliament.
Related Internet Links
The BBC is not responsible for the content of external sites.