Hart 'did not mislead assembly'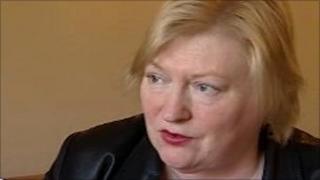 The first minister has defended his health minister over claims she knowingly misled the Welsh assembly.
Carwyn Jones wrote he was "surprised and disappointed" by claims Edwina Hart had deliberately suppressed a critical analysis of NHS Wales.
He responded by letter to a question raised by Welsh Liberal Democrat leader Kirsty Williams.
Ms Williams said Mr Jones's argument supporting Mrs Hart was "scarcely credible and utterly contemptible."
Ms Williams alleged Mrs Hart had kept a "report" by consultants McKinsey from the assembly, denying its existence despite repeated questioning in the chamber.
But Mrs Hart argued the information Ms Williams referred to was merely a "discussion document" and that no report therefore existed to suppress.
The analysis by consultants McKinsey predicts an NHS deficit of hundreds of millions of pounds over coming years.
It also says strategic objectives are too numerous, not prioritised and politically nonviable and that many initiatives are financially unaffordable.
Regarding Mrs Hart, the first minister wrote: "I am completely satisfied that the minister has not misled the assembly over this matter, nor did she seek to do so."
Compilation of slides
He added that the work by McKinsey was a series of slide presentations used to collect the views of health boards, trusts, clinical leaders and trade unions on the challenges the NHS faced.
He noted that the company had themselves confirmed that it was correct to state there was no McKinsey report.
He wrote: "I understand that the document you refer to is simply a compilation of slides used.
"You may wish to call a compilation of slides, which were also produced in hard copy, a report, but it is not.
"The minister was not involved in this process and nor was she given a copy of the slides.
"Furthermore, it seems entirely reasonable that the slides were restricted at the development stage of the work."
Mr Jones argued that this work, which resulted in a five year strategic framework document published in full in June, was "hardly a covert exercise" since trade unions were involved in it.
But Kirsty Williams has rejected the argument that Mrs Hart was not given a copy of the McKinsey slides as "scarcely credible and utterly contemptible."
She said: "However the first minister describes the document, it is clear that McKinsey uncovered a raft of failures in Labour and Plaid's leadership of the Welsh NHS.
"The first minister's claim that the health minister was not involved in this process and not even given a copy of this report is scarcely credible and utterly contemptible.
"In denying the health minister's involvement in this review, the government has now proved the point, highlighted in the suppressed McKinsey report, that the Welsh NHS is being let down by a lack of leadership at the very top."
Ms Williams said the Labour/Plaid Government needs to "stop obsessing" about the title of the document under dispute and "address the serious criticisms it contains".