Referendum on more Welsh powers set for 3 March, 2011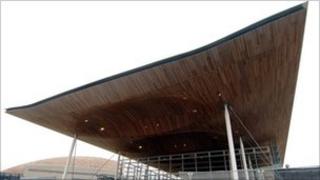 The referendum on whether the Welsh assembly should gain more powers seems almost certain to be on Thursday, 3 March next year.
That is the preferred date put forward by the Welsh Assembly Government to Welsh Secretary Cheryl Gillan.
She is expected to agree that voters will go to the polls on that day, for the third Welsh devolution referendum in 32 years, after 1979 and 1997.
Mrs Gillan said she would do everything possible to make 3 March the date.
First Minister Carwyn Jones and Deputy First Minister Ieuan Wyn Jones have also met the leaders of the opposition parties in the assembly "to take on board their views".
Mrs Gillan said she had told Carwyn Jones she would do all she could to accommodate the referendum on 3 March and plans to lay an order before Parliament next month.
"In the meantime, Wales Office officials continue to work with Welsh Assembly Government officials to fulfil the commitment to hold the referendum by the end of the first quarter of 2011."
'Acted swiftly'
Labour pledged it will campaign for a Yes vote, and Carwyn Jones said: "A positive outcome for the referendum will mean the assembly can make laws for the people of Wales more efficiently and in a more cost effective manner.
"It also means that Welsh Labour are fulfilling one of the main pledges within the One Wales programme for government, which we agreed back in 2007."
Welsh Liberal Democrat leader Kirsty Williams said the Conservative-Lib Dem coalition government in Westminster "has acted swiftly to ensure a referendum on law-making powers takes place on 3 March 2011".
She added: "The Welsh Liberal Democrats will want to work constructively with progressives in all parties to secure a Yes vote that ensures that for the first time, laws that affect only Wales are made only in Wales."
It has been widely expected that the referendum will be in March.
That will mean it will be held two months before Wales again goes to the polls for the assembly election on 5 May.
Another referendum is also expected to be held on 5 May, when electors across the UK are likely to vote on whether to change the voting system. That is also the same day as elections for the Scottish Parlament and English local councils.
A revised question has been drawn up for the 3 March referendum, after consultation found the original version was difficult for voters to understand.
The previous referendums were both on the principle of setting up a Welsh assembly. On 1 March, 1979, in the dying days of a Labour government, voters overwhelmingly rejected the idea.
But on 18 September, 1997, shortly after Labour was elected by a landslide, electors narrowly backed the idea, which led to the assembly being set up in 1999.