Nick Clegg to look at election clashes in UK and Wales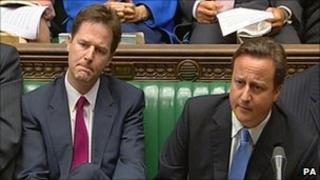 The deputy prime minister told MPs assembly elections could be moved to avoid a clash with a UK general election.
Nick Clegg said powers to move the devolved poll by a month may need to be strengthened.
Under a law introducing fixed five-year parliaments, elections to the two bodies will clash every 20 years.
Liberal Democrat peer Lord German has argued all elections should be held on a five year cycle.
Mr Clegg was speaking as MPs debate the Fixed Term Parliaments Bill.
He said he accepted that holding elections to different parliaments or assemblies on the same day was more complex than holding a referendum on the same day as the assembly elections.
There was already scope in current legislation to vary the date of devolved elections, said Mr Clegg.
The UK government was actively considering whether the current powers were sufficient, he explained.
"We have not yet reached a conclusion... but if we decide that further powers are needed we will put forward proposals for an alternative," he said.
New law
Plaid Cymru parliamentary leader Elfyn Llwyd said it was in no-one's interests to hold two sets of elections in four weeks.
Mr Clegg told him that was exactly what ministers were looking at.
The Government of Wales Act gives the Secretary of State for Wales the power to vary the election date by one month.
Under the new law the 2015 assembly elections would be due the same day as the next UK general election.
Liberal Democrat peer, and former Welsh Lib Dem Leader Mike German, told BBC Radio Wales' Good Morning Wales that his own preference was to have each election - UK government, Welsh assembly, local council and european - held on a five-year cycle.
He said: "You'd have them on the first Thursday in May, each year being different.
"One year you'd have the assembly election, one year you'd have a government election - the UK government - one year you'd have a European election and one year you'd have a local election and one year, thankfully, you'd have off."
Lord German said a debate around the issue of how elections would occur in future needed to begin.
But a Welsh Liberal Democrat spokesman said Lord German was speaking in a personal capacity and that his comments did not reflect the party's policy.