Plaid leader Ieuan Wyn Jones wants to be first minister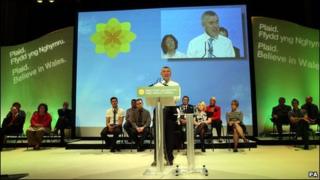 Plaid Cymru leader Ieuan Wyn Jones has told his party conference that after next year's Welsh assembly elections he wants to be first minister of Wales.
The current deputy first minister accused his assembly government coalition partner Labour of "managing", while his party wanted to change Wales.
In many areas, he said, Labour's aspirations had become "meaningless".
He also demanded a new funding formula in place of a system which he says gives Wales less than it should.
Speaking to delegates in Aberystwyth he said: "Managing Wales may be what other parties are about, but for Plaid putting up with things as they are, just doesn't feel right.
"For 13 years Labour built new projects and structures as a response to problems. Few of them succeeded."
He claimed that Plaid was a "different animal" to the other political parties and that their "ambitions for Wales will set a high standard."
Mr Jones, whose party has been in coalition with Labour in the assembly government since after the 2007 election, emphasised Plaid's role in the development not just of devolution but also of job creation.
He said that Plaid was the party of ideas and that had to continue in a time of cuts.
"In a time of scarce resources we will act to build our nation according to our needs," he said.
He said that he and his party were "impatient for change" and will remain so.
His accused Conservatives of introducing austerity measures "with relish", adding that "cutting back on state spending is not just about getting public finances back on track for them. It is an article of faith."
'Article of faith'
"Our ambition will outlast their austerity -- we will not allow them to wear us down, to sap our energy or diminish our determination to realise the ambition of the nation to create a more confident, prosperous and fairer Wales".
With the next assembly election in May 2011, he said Plaid would outline key ideas and policies on health.
Mr Jones said that the NHS budget in Wales could not be ring-fenced at the expense of other areas and that his party would "not go down the English route of GP commissioning".
He said the key things that he wanted in every community across the country was "a decent hospital, good schools, to protect our fragile environment".
He also, called for broadcasting to be devolved to the assembly and said Plaid would oppose any cuts to the budget of the Welsh language broadcaster, S4C.
During the speech he officially welcomed Ron Davies, the former Labour Welsh secretary, to the conference and he closed his speech with a direct message to Mr Davies' former Labour colleagues.
"I want to make on thing absolutely clear," he said. "I didn't come into politics to manage Wales. I came into politics because I wanted to change Wales, and change Wales for the better".
Earlier, Plaid delegates voted to scrap the subsidy that supports the air link between north and south Wales and put the money saved into improving rail links instead.
The vote came during a debate on sustainable transport and was put forward by the party's National Executive and supported by the party's former chair, John Dixon.
The Welsh Assembly Government subsidy for the air service between Cardiff and Anglesey is believed to be £800,000 per year, the service has been dubbed "Ieuan Air" by its critics since it is routinely used by the Plaid leader, who is also the AM for Ynys Mon.
Although passed by conference the vote is not binding on the party's ministers or Welsh assembly group, who may choose to ignore the view of grassroots members.