Quarter of MPs in Wales could go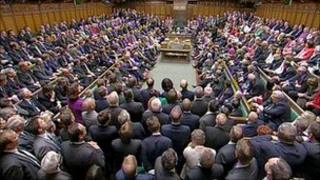 Wales could lose more than a quarter of its MPs under plans published by the Electoral Reform Society.
A new political map commissioned by the society suggests Welsh MPs should be cut from 40 to 29.
It comes on the day that Parliament starts to debate plans to revamp the voting system and create more equally-sized constituencies across the UK.
Keith Best from the society said its map showed "there is a way of equalising constituencies fairly."
The research was conducted by location specialists CACI, who based their analysis on population projections for the adult population in 2015 rather than the current numbers of registered voters, which is the government's preference.
Under the proposals, Wales would lose 11 of its current 40 seats, with changes to all existing constituencies.
It mirrors previous analysis of the likely impact of the proposals for Wales - all of which recognises that in pure numerical terms Wales is relatively over-represented at Westminster compared with many other parts of the UK.
For the research there was an attempt to create new constituencies within national boundaries, and where possible within local authority areas.
The researchers deliberately ignored all existing constituency boundaries, despite the fact these would continue in existence for elections to the Welsh assembly.
Council wards were used as the building block for the creation of the new constituencies - which include Aberystwyth & Cardigan, Bangor & Holyhead, Newtown & Ystradgynlais/Ystalyfera and Halesworth & Blaenau Ffestiniog.
MPs will begin to debate the Voting System and Constituencies Bill on Monday on their return from summer recess.
But the Electoral Reform Society argues that the bill as it stands cannot achieve the goal of creating fair and equal constituencies.
Mr Best said: "Their decision to build seats using registered voters rather than the adult population is a recipe for bloated constituencies packed with invisible citizens."