Rhondda MP wins backing over phone hack claims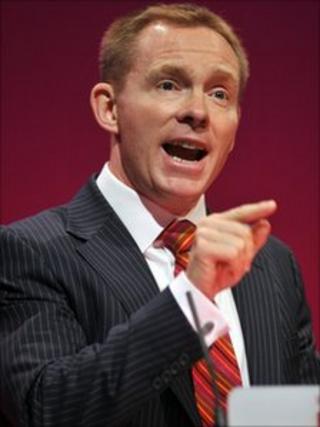 A member of the Metropolitan Police Authority has backed a Welsh MP's call for the London police force to reveal more details over phone hacking claims.
Rhondda MP Chris Bryant said officers have told him that his name appeared on material in an inquiry into the News of the World newspaper.
Police authority member Joanne McCartney said the MP was right to demand greater transparency
The newspaper has said hacking was limited and without approval.
The Labour MP's claim comes as the row over journalists illegally accessing the personal voice mails of politicians, celebrities and others gathers pace again.
The newspaper's royal editor Clive Goodman was jailed three years ago after being convicted of conspiring to access telephone messages from a small number of people.
A new investigation claims potentially thousands of individuals may have been targeted.
Mr Bryant says he inquired "on the off chance" to the Metropolitan Police about whether his messages had been hacked, and was told as a result that his name was among those identified.
He said he was angry police did not investigate all cases where there was a suspicion that hacking took place.
"What is astounding is that the police had not thought to mention this to me beforehand," he added.
Inquiry calls
"Nor, as I understand it, have they informed many, if any, of the thousands of others who may have been targeted."
A number of Labour MPs have called for a fresh inquiry into new allegations made by the New York Times about the extent to which other News of World reporters took part in phone hacking.
Former deputy prime minister Lord Prescott said he was prepared to take legal action to find out whether News of The World journalists hacked into his phone messages.
The News of the World has maintained that the practice was limited to one reporter and that senior managers had no knowledge of what was happening.
However, it confirmed that another of their journalists was suspended earlier this year amid similar allegations.
Metropolitan Police Authority member Joanne McCartney has now added her weight to the issue.
Speaking to BBC Wales, she said: "There certainly seems to be quite a number of people coming forward today saying that they are having difficulty getting information out of the Metropolitan Police, which I think is quite worrying.
"We do know that they have a list of numbers and it would seem to me that they should be contacting everyone who has potentially been the subject of having their telephones tampered with.
"Everything at the moment seems to be quite unsure - Chris Bryant says it took him six months to get the information, and then he wasn't sure what the exact information was...there's a lot more that the police could do."