BT refuses to shut 'druggy' phone boxes in Caernarfon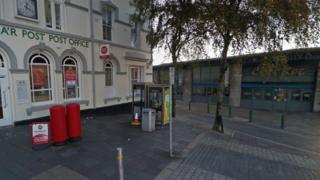 BT has resisted calls to remove public payphones that are claimed to be a hotspot for drug users.
Campaigners want to remove the kiosks near Caernarfon Post Office following reports the boxes are often used for drug taking.
Doors and shelves have since been removed in a bid to deter addicts, but BT says it has no plans to get rid of the boxes altogether.
Local MP Hywel Williams and councillors have urged the firm to reconsider.
Mr Williams said: "My constituents remain concerned these payphone kiosks serve as a hotspot for drug related activity and want to see BT take immediate action."
Councillors also fear the problem is making the Caernarfon look bad as the kiosks are yards from the town's castle.
Town council member Maria Sarnacki said: "It can't be good for tourism or the image of the town."
BT said it worked closely with police to tackle anti-social behaviour.
A spokesman said: "We have no plans to remove these payphones as calls are regularly made from them.
"We've removed the shelves and doors from the kiosks to address local concerns.
"We'd also encourage anyone who spots any criminal activity to report this to the police."