RSPB launches appeal after Anglesey parking scheme refused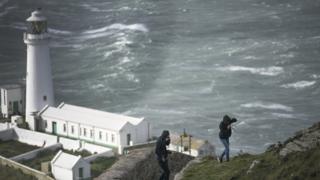 An animal charity has appealed against a decision to stop pay and display parking meters being installed at a beauty spot.
Anglesey Council denied the RSPB planning permission for the meters at Elin's Tower and the visitors' centre car parks at South Stack near Holyhead.
Councillors voiced concerns narrow country lanes would be clogged up by motorists trying to avoid the charges.
The RSPB claimed the fees were an "appropriate way" to boost its funds.
The cliffs at South Stack are breeding grounds for guillemots, razorbills and puffins during springtime.
An RSPB spokesman said: "We must increase our income to become financially sustainable."
Under the plans, residents on Anglesey could qualify for a £20 annual concession rate, with daily rates at £5 during peak season and £2.50 off peak.
However, local campaigner Jeff Evans - a former county councillor - said the proposed charges were not popular.
"There is already a problem with people parking on the narrow roads, it would only get 10 times worse if they get their way," he said.
The council said it was "aware" of an appeal made to the Planning Inspectorate, but could not comment any further.