Man sues after breaking feet in Llandudno pantomime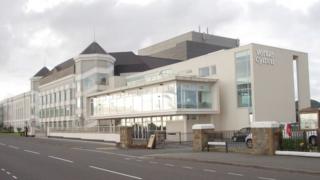 A stage manager whose feet were crushed during a rehearsal for a pantomime has launched a High Court bid to claim £100,000 in compensation.
Andrew Parish, from Holwell, Hertfordshire, badly broke his feet while rehearsing for a production of Snow White in Llandudno in 2015.
He is suing equipment provider Twins Worldwide, their employee Gavin Allen and pantomime firm Qdos Entertainment.
The three defendants deny negligence in the case.
Mr Parish was stage manager for the production of Snow White and the Seven Dwarfs when his feet were crushed by a piece of equipment called a "flying effect".
The equipment is a counterweight that hoists up a person when it is lowered, creating the on-stage illusion the actor is flying.
Hospital treatment
In papers sent to the UK High Court, Mr Parish alleges he was crushed after the equipment was overloaded.
He claims cast member John Evans, who weighed about 16st (102kg), was too heavy to be hoisted into the air by the flying effect, prompting more weights to be added to the device by Mr Allen of Camberley, Surrey.
After a break in rehearsal, the weight moved, scraping down the back of Mr Parish and crushing his feet. It took six people to free him and he spent four days in hospital.
Mr Parish accuses all three defendants of negligence, alleging the flying effect was overloaded, was not designed for excess weights.
He also alleges they failed to warn him it was unstable and did not carry out a proper risk assessment.