Conwy Castle and Japan's Himeji Castle to be twinned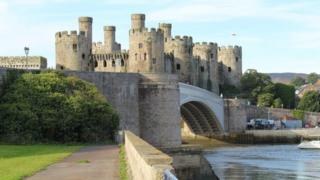 A castle in north Wales is to be twinned with another in Japan, in what is believed to be the first relationship of its kind for the UK.
Conwy Castle and Himeji Castle are both Unesco World Heritage Sites and on 6 July a ceremony will be held in Conwy.
The twinning is due to North Wales Tourism forging close links with the Japanese tourism industry with more visitors coming to north Wales.
The initiative has Welsh Government backing.
The Mayor of Himeji, Toshikatsu Iwami, will be travelling to Conwy to sign a memorandum of understanding with his local counterpart, councillor Sam Cotton, during a special ceremony at the town's Guildhall.
Jim Jones, managing director of North Wales Tourism said Himeji Castle was "absolutely stunning".
He added: "The synergy between Himeji Castle and Conwy Castle is they were both started around about the same time.
"The twinning is the first of its kind for Wales and probably for the UK.
"The Mayor of Himeji and his delegation will be here for four days and, as well as visiting Conwy Castle, they will be taking in the Proclamation parade at the 2019 National Eisteddfod and calling at a local school.
"They want to come and experience our food and the Japanese have a particular fascination for Welsh Rarebit which regularly features in high-end magazines over there.
"We're also aiming to establish educational and cultural links between the two communities.
"This is the start of a beautiful friendship that is gathering momentum. It's a huge opportunity."