Former North Wales Police officer bit parents in drunken rage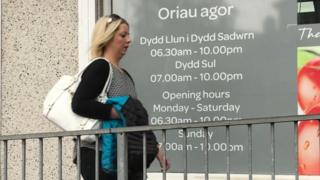 A former police officer, who turned to drink after discovering a decomposed body, has been sentenced for attacking her parents in a drunken rage.
Elliw Jones, 27, of Llanwnda, slapped her mother and then bit both of her parents.
Caernarfon Magistrates' Court heard she left North Wales Police after suffering post-traumatic stress disorder.
Jones pleaded guilty to being drunk and disorderly and common assault and was sentenced to 100 hours of unpaid work.
She was also ordered to complete a 12-month community order.
Prosecutor Angharad Mullarkey said police were called to a hotel in north Wales on May 9 after Jones was drunk and causing a nuisance.
The court heard officers were then contacted on 25 May after Jones slapped her mother and bit both of her parents.
Dead body
Magistrates were also told she was convicted of drink-driving in January 2017.
The court heard Jones was going into rehab.
Liz Jones, defending, said the defendant had been badly affected since discovering a dead body while working covering Caernarfon and Blaenau Ffestiniog.
As well as a community order and unpaid work, Jones will also have to pay £225 in costs.
The court heard police want Jones to be given a criminal behaviour order - which can prohibits offenders from certain activities or places.
That application will be contested next month.