Former children's home boss Bryan Davies jailed for 22 years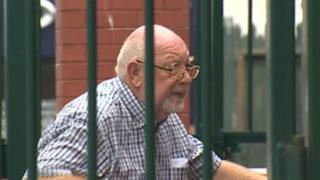 A man who sexually abused boys while working at a children's home in Denbighshire has been jailed for 22 years.
Bryan Davies, 71, was convicted by a jury last month for a string of sexual offences - including indecent assault - despite being on the run at the time.
He was brought back to Mold Crown Court following a failed suicide bid.
The trial heard Davies enticed boys to his room by offering them alcohol or cigarettes in the 1970s.
The crimes dated back to when Davies was deputy principal at Ystrad Hall and an annex named Eirianfa at Llangollen, which was run by the private organisation Care Concern.
Davies was convicted of 29 charges last month.
They consisted of 20 counts of indecent assault on 11 boys during the 1970s and six charges of making indecent images of children between 2007 and 2013.
He was also found guilty of three charges of inciting young boys to indulge in sexual acts over the internet in 2011 and 2012.
Jurors delivered their verdict in his absence after he failed to turn up to court.
The National Crime Agency found Davies in Folkestone, Kent, where he tried to take his own life.
He was then airlifted to King's College Hospital in London before undergoing surgery.
During his recovery, police officers were on guard at his bedside to ensure he did not try to escape justice again.
The court also heard that following his initial arrest, Davies fled to Malta, and had to be extradited.
During sentencing, Judge Huw Rees said Davies's "systematic and sustained abuse" of extremely vulnerable children was gross abuse of trust.
He said: "They had nowhere to call home. They didn't know what a home life was other than that provided by the institution where they were sent.
"They were young people who had nowhere to turn. They were not free to leave, effectively trapped. They had no escape from you."
Judge Rees said the effect on the victims had been devastating. He described many of them being broken men in their 50s and also said one went to the grave not knowing if justice would be served.
He added: "Their lives, either in whole or in part, have been blighted by the offences you committed against them."
After sentencing, Karen Mullin of the Crown Prosecution Service said Davies went to great lengths to try and avoid justice.
She added: "The victims have shown great courage in giving their evidence to the court, and we thank them for their support.
"They have waited decades to see the man who abused them answer for his crimes.
"We hope that it provides some comfort for them."